Final negotiations are underway for three actors to join the cast of Gus van Sant's Milk, Gus van Sant's biopic of the slain San Francisco Supervisor and gay rights icon, opposite Sean Penn in the title role.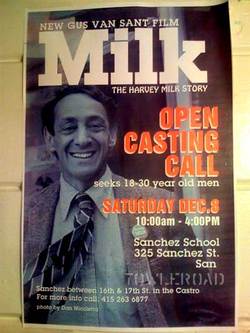 Emile Hirsch (Into the Wild), Josh Brolin (No Country for Old Men), and James Franco (Spider-Man 3) are signing on.
Via the Hollywood Reporter: "Brolin will play Dan White, the rival politician and supervisor who shot Milk and San Francisco Mayor George Moscone to death at City Hall. Hirsch has been cast as gay rights activist Cleve Jones, an intern and close ally of Milk's, who went on to found the NAMES Project AIDS Memorial Quilt. Franco will play Scott Smith, Milk's lover and campaign manager."
Variety reports: "Pic will shoot entirely in San Francisco, where Milk became the first openly gay man elected to office in 1977. 'Milk' is the first feature about the activist to go before the lens. Craig Zadan and Neil Meron have been developing an adaptation of 'The Mayor of Castro Street' for 15 years, but their project is in strike limbo. Bryan Singer is attached to direct it for Warner Independent, but Chris McQuarrie didn't turn his script in before the WGA strike deadline (Daily Variety, Nov. 19)."
The filmmakers are also holding open casting calls in the city. A Towleroad reader sent us this shot of one of the posters hanging in San Francisco. They're looking for 18-30-year-old men, and they'll be casting at 325 Sanchez Street between 16th and 17th in the Castro between 10am and 4pm this Saturday!
Look for a special bonus Harvey Milk post coming up in just a bit!
You may have missed…
Gus van Sant and Sean Penn are First to Spill Milk [tr]
Singer and Van Sant Vie to be First with Harvey Milk Film [tr]
Harvey Milk to get Bust at San Francisco City Hall [tr]
Vintage Gay Castro Images and Harvey Milk [tr]
Thank God for Harvey Milk [tr]