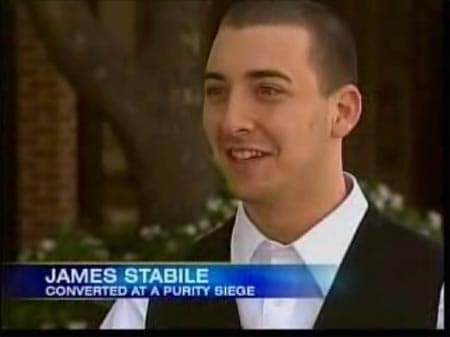 Some of you may remember the piece I posted about Pat Robertson and the nutty evangelical "purity sieges" that have been going on around Interstate-35 in the midwest.
According to Robertson, God is using superhighway I-35 that runs from Canada to Mexico to purify America from sin. He says "I-35 is the highway spoken of in Isaiah 35:8 – "And a highway will be there; it will be called the way of holiness." So, evangelical Christians have set aside 35 days to use the cities around I-35 to rid America of sin, meaning "abortion clinics, gay bars, strip joints, and porn shops." God is using "purity sieges" to set America free.
One of the main people featured in the clip posted below is James Stabile, who was apparently "cured" of his homosexuality by a minister at one of these purity sieges.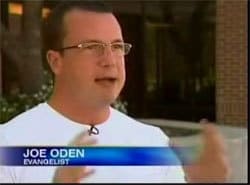 John Wright of the Dallas Voice attempted to track down Stabile and discovered what had happened to him after talking to Joe Oden, the midwest evangelist who has been organizing the "purity sieges" and who "touched" Stabile, allegedly transforming him from gay to straight in an instant:
Writes Wright: "Oden told me Stabile had been shipped off to Pure Life Ministries, which operates a residential treatment program in Northern Kentucky. 'It's a program for people who've lived alternative lifestyles just to get totally clean,' Oden told me. Upon further investigation, I discovered Pure Life Ministries is also the place where Mike Johnston — remember him?! — is director of donor and media relations. Johnston's the guy who contracted HIV before swearing off homosexuality and becoming a poster child for the ex-gay movement in the late 1980s. Then, in 2003, it was revealed that Johnston was living a double life — cruising men online and organizing unsafe sex parties while failing to disclose his HIV status to partners. Johnston eventually checked into Pure Life and later re-emerged in his current position. 'With good reason, people would question what I'm saying now,' Johnston told me recently during what he said was the only interview he's given on the subject in four years."
Soon after, Oden told Wright that Stabile had been kicked out of Pure Life Ministries for being a "compulsive liar" so Wright tracked down Stabile's father (pastor of Cochran Chapel United Methodist Church, the oldest church in Dallas) to "get the real scoop."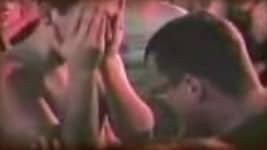 According to Wright, "Joseph Stabile said he's fully accepting of his son's sexual orientation and believes being gay is neither a choice nor a sin. Joseph Stabile said James left home to go out that Friday night and never returned. Joseph said James, or 'B.J.' as his parents affectionately refer to him, is bipolar and had stopped taking his medication. James called a few days later and told his parents he was moving out, and that he'd be back to get his stuff. James apparently had moved in with some folks from Heartland. After that, it would be some time before James' parents heard from him, as his church friends reportedly advised him not to contact them. Joseph Stabile said the Heartland folks also may have advised James to throw away his medication, telling him that God would cure his bipolar disorder, too. Joseph's parents said James has a tendency to be less than truthful, especially when he's off his medication, and that he loves attention. They said they don't believe he's ever questioned his sexuality, but that the folks from Heartland manipulated and exploited him for publicity."
So the Fundies basically emotionally kidnapped Stabile, took away medication that helps him act rationally, and that's not all. Apparently it cost James $2100 to get into the "ex-gay" program and another $150 a week while he was there. The people at Pure Life constantly told him he was going to Hell, he had to be clothed from the neck down even while sleeping. James is now home with his parents, describes his experience at "straight camp" as being "horrible" and is seeing a therapist.
There is a hell on earth apparently and these people are at the center of it.
I've attached the clip again below.
Dallas gay man adversely affected by Christian "purity siege" [pegasus news]
'Purity sieges' lead gay man into bipolar hell [dallas voice]
You may have missed…
Pat Robertson: God is Using I-35 to Rid USA of Gay Sin [tr]