Over at Queerty they've uncovered the fact that one of the men featured as part of a monogamous couple on their current cover is actually heterosexual Playgirl model Julian Fantechi. Inside the magazine, they're presented as a real life couple, an example of monogamy. According to the reader that tipped off Queerty, "Inside the magazine, they are stripped down, appear to be into each other, and are allegedly, discussing their physical relationship, emotional, sexual and spiritual relationship."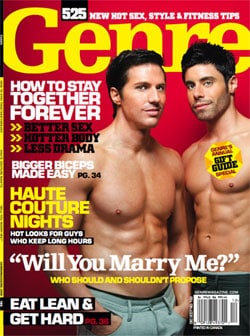 Editor Neal Boulton told Queerty: "The idea was to use these hot boys to sell a bigger idea that I feel is very possible—longevity in relationships… The cover article I use these boys to sell tips for guys who may want to experience the same." However, that's not the explanation that I was given a few weeks ago, which you can read below.
In mid-November, publisher William Kapfer forwarded the cover to me as publications sometimes do, in case there might be something of interest to feature to Towleroad readers. While I found nothing newsworthy about the cover at the time, unfortunately these latest revelations from Queerty compel me to share Boulton's statement offered to me about the cover.
According to Kapfer, who may or may not have known about the cover set-up, Boulton's statement to Towleroad regarding it was this:
"Everyone wants—someone. But when you get them, how do you keep it going. Genre's new service journalism and -how to- editorial direction made it easy for us to provide our readers with the **50 top ways to stay together forever.** This is not your typical list. We delve into the physical, mental, and spiritual aspects that if addressed can actually enhance the way people relate to each other. We acknowledge that not every is monogamous, but some are—and we even address how to manage life in either scenario. On the cover this month, Genre bravely put forth a reality couple, and not the typical models who hold perfection over our heads. Our message is simple. Reach for forever. Genre can help you get there."
Hopefully, if Genre decides to "bravely put forth a reality couple" again, they won't be selling a false bill of goods.
No Truth In 'Genre' Cover [queerty]
(note: as a matter of disclosure, I'm a former editor of Genre, and as a side note, when we did our "relationships" issue there was no shortage of hot, interesting real-life couples dying to tell their stories to the magazine – Feb '03)