Mel Cheren, a founder of disco label West End Records and someone who was officially deemed "a Godfather of Disco" by a 2006 documentary, died of AIDS-related complications last Friday at the age of 74.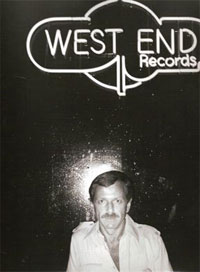 The New York Sun reports: "At West End Records, which he co-founded in 1976, Cheren released some of the formative singles of the disco era, including 'Hot Shot' by Karen Young and Raw Silk's 'Do It To the Music.' He also backed a memorable nightclub, the Paradise Garage, where disco dreams played out in the fabulous late 1970s and early 1980s…All too notoriously, the predominantly gay social scene of early disco burned out in the face of the AIDS epidemic. Cheren became a leader in that cause as well, holding the first fund-raisers and donating the first office space to the Gay Men's Health Crisis in his Chelsea brownstone, a renovated SRO. After GMHC outgrew those quarters, Cheren converted the brownstone into a gay-oriented bed-and-breakfast, the Colonial House Inn."
Regarding The Paradise Garage, which Cheren opened with his partner Michael Brody in the West Village in 1977, the Sun writes: "Smoke machines and music videos lurked in the corners and one of the most sophisticated sound systems in the city pumped out DJ Larry Levan's selections. As it was a private club and sold no alcohol, the dancing could continue far into the night, sometimes even until noon the next day. The endless throbbing at Paradise Garage is often cited as a precursor to house music and similar modern styles. Despite the onset of AIDS and the 'death to disco' or 'disco sucks' movement of the early 1980s, the Paradise Garage managed to stay open until 1987. Today it is again a garage."
Cheren says he saw over 300 friends die of AIDS in the 80's and 90's. On November 29 of this year, Mel Cheren told his story to CBS News on LOGO, just one month after he discovered he had contracted the disease.
Mel Cheren interview [cbs news on logo]
Mel Cheren, 74, Disco Pioneer, AIDS Funder [new york sun]