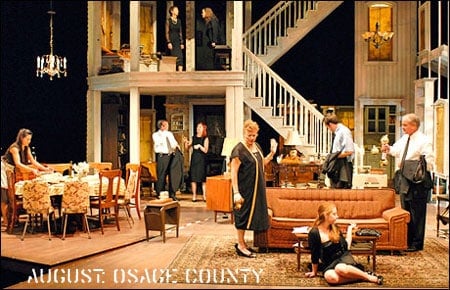 Please welcome Kevin Sessums, who last reviewed Trumpery for Towleroad. You can also catch up with Kevin at his own blog at MississippiSissy.com.
The most discussed topic along the Rialto this week — aside from Fantasia's 50 absences from her starring role in The Color Purple (I'm seeing her next week and will report on the acclaimed sporadic performance since she was out, alas, again last Sunday when I was scheduled to see her) — is the debate about which is the better play that opened on Broadway last week: Tracy Letts's August: Osage County or Conor McPherson's The Seafarer. The two plays will be the main contenders for all the prizes next spring.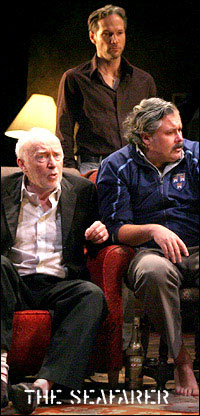 And to add to the competitive narrative of the dramas playing a half block down 45th Street from each other is how The New York Times' two critics — Ben Brantley and Charles Isherwood — have championed each of them. Which critic will assert more power? Brantley, the Times's first-stringer, has always lauded McPherson and has what amounts now to a critical investment in his career much the same way his predecessor, Frank Rich, critically built the reputation of the equally talented John Robin Baitz in the early 1990s. Brantley weighed in with an astonishing rave for The Seafarer and especially its acting ensemble. He called it the "pick-me-up play of the season" and the performances by the actors "gorgeous and vitally intelligent." Isherwood, whose rave of Osage County when it was staged in Chicago by the Steppenwolf Theater Company, was the main reason for its move to Broadway, wrote in his review of the New York production that it is "the most exciting new American play Broadway has seen in years" and that its actors are "taking the city by storm with the harsh humor, ferocity, and keen feeling of their performances." Brantley called The Seafarer "a long night's journey into day." Isherwood compared Osage County to A Long Day's Journey Into Night.
My take on the plays? AFTER THE JUMP…
I appreciated The Seafarer more than August: Osage County. But I enjoyed the latter more than the former. Both are stunning nights in the theatre. Each is about the dysfunction at the similar battered hearts of two dissimilar families. Each is awash in substance abuse. And each deserves any awards it wins. My prediction is that August: Osage County will walk away with the Pulitzer. The Seafarer will settle for the Tony. (Though you can't count out Tom Stoppard and his brilliant Rock 'n' Roll, its own marquee lighting up the same block of 45th Street.)
The summaries: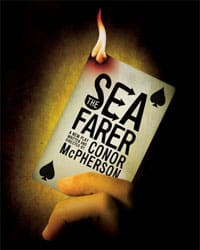 ***
THE SEAFARER
The Seafarer takes place during one all-night poker game played for the highest of stakes during the Christmas season in the lodgings of a lower-class Irish family. Rotgut has never been a more apt term for liquor than it is in this house where souls, as well as guts, are rotted not only by the prodigious consumption of cheap liquor but also by the richly described lower depths to which the characters have succumbed, one of whom seems to have arrived from the lowest depth possible. Playwright McPherson has also directed the play and has orchestrated his actors into a seamless ensemble of recriminations and, in keeping with the Christmas season, a curdled kind of resounding joy. But Jim Norton, as the blind older brother, and Conleth Hill, as his nearsighted nearly blind friend — two holdovers from the British cast — are giving legendary performances. The sexily stolid David Morse, the devilishly debonair Ciaran Hinds, and the coltish Sean Mahon round out the cast, all of whom keep this strange and seductive evening perversely taut with a percolating tedium.
T T T T (out of 4 possible T's)
The Seafarer, Booth Theatre, 222 West 45th Street, New York. Ticket information here.
***
AUGUST: OSAGE COUNTY
There is nothing tedious about August: Osage County. But it is certainly perverse and seductive. Running three and a half hours with two intermissions — be warned that the curtain time is 7:30 not 8:00 — I was never bored for one second. A play also full of recriminations as well as resounding joy — I'll wager you'll have more astonished belly laughs while watching this play than any you'll have in or out of the theatre all winter — Osage County is a monumental achievement.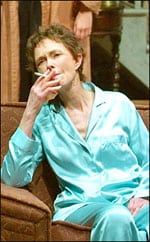 Set in Oklahoma after a family's patriarch goes missing, its scenes ricochet with more emotional energy and honesty and bravado than any play I've seen in a very long time. It's as if into a dramatic blender have been placed a walloping cup of William Inge's entire oeuvre, a heaping tablespoon of Tennessee Williams at his most blistering, a smidgen of Sam Shepard's Buried Child, a smattering of Albee's Martha when she's at her marauding best (or worst), and even an epic dollop of Edna Ferber.
Director Anna D. Shapiro has combined all these ingredients into the singular vision of playwright Tracy Letts. The large cast to-a-man-and-woman is stunningly good. But three standouts are the pill-popping matriarch, played by Deanna Dunagan with a marauding majesty all her own; Amy Morton, as her oldest daughter who keeps digging deeper and deeper into her character's seething ore; and Rondi Reed, as the matriarch's sister, whose comic timing takes a caustic turn, heartbreakingly so, toward the play's harrowing ending. August: Osage County made me repeatedly shout bravo at the curtain call for its bravery and heightened verisimilitude. I wanted to shout hallelujah.
T T T T (out of 4 possible T's)
August: Osage County, Imperial Theatre, 249 West 45th Street, New York. Ticket information here.
Recent reviews…
On the Stage: Trumpery [tr]
On the Stage: Make Me A Song, The Music of William Finn and The 25th Annual Putnam County Spelling Bee [tr]
On the Stage: Bad Jazz [tr]
On the Stage: Things We Want and Peter and Jerry [tr]
On the Stage: Speech & Debate and Die Mommy Die! [tr]