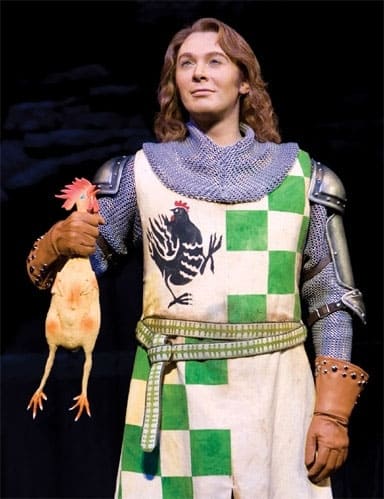 Here's another shot of Clay Aiken in his Monty Python garb.
And though he'll choke the chicken, he apparently can't handle some types of nuts.
Is it true you're allergic to nuts?
I'm allergic to a number of things: tree nuts, coffee, mints, chocolate. Some fans tried to introduce me to carob a few years ago. But it gave me the runs, so… [Laughs]
Speaking of which, is it safe to say Rosie O'Donnell had diarrhea of the mouth when she called Kelly Ripa "homophobic"?
Oh, God. I think people on TV say certain things just so they can get attention. I didn't agree with Rosie. But I appreciated her trying to come to my defense, in one way or another!
What do you make of people nagging you about the "gay" thing?
I think the majority of the American public cares less about it than reporters like you do.
Has anyone ever confronted you about it in public?
I can't come up with any specific incidents. But I've been called everything in the book at some point or another—gay, ugly, nerdy, fat.
Clay Aiken [time out]
Aiken will make his Broadway debut on Friday as "Sir Robin" in Spamalot, a role which was originated by David Hyde Pierce, who last May was gently nudged out of the closet.
Previously
Clay Aiken to Take Stage as "Sir Robin" in Spamalot [tr]