FOX News host John Gibson revelled in Heath Ledger's death yesterday on his radio show, finding a new opportunity to mock Brokeback Mountain (and by proxy, gay love), which in 2006 he called a "gay agenda movie," Think Progress reports: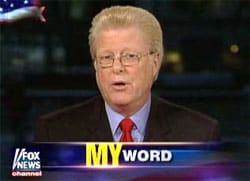 "Playing an audio clip of the iconic quote, 'I wish I knew how to quit you' from Ledger's gay romance movie Brokeback Mountain, Gibson disdainfully quipped, 'Well, he found out how to quit you.' Laughing, Gibson then played another clip from Brokeback Mountain in which Ledger said, 'We're dead,' followed by his own, mocking 'We're dead' before playing the clip again."
Gibson called Ledger a "weirdo" with a "serious drug problem" and suggested that Ledger killed himself because he had "a serious position in the (stock) market" or perhaps "watched the Clinton-Obama debate last night. I think he was an Edwards guy, cause he saw his Edwards guy was just completely irrelevant."
Listen to the audio at Think Progress.
What a sad, pathetic individual.