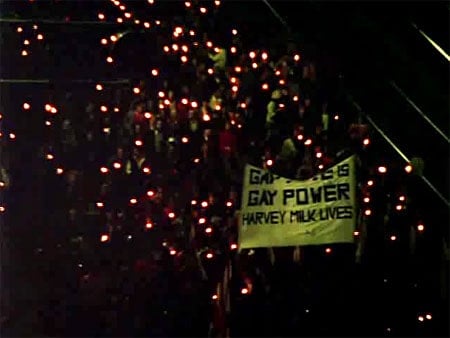 For all our Milk news, click here…
Gus van Sant and the filmmakers want you to help recreate three 1970's marches through San Francisco's Castro district for Milk, which began shooting this week:
"On Monday night, February 4th and Friday night, February 8th, the feature film MILK (directed by Gus Van Sant and starring Sean Penn as Harvey Milk) will be re-creating three 1970's marches through the Castro. We are looking for volunteers to appear in the these marches in the film. THERE ARE NO AUDITIONS. IF YOU SIGN-UP ON THIS SITE AND SHOW UP, YOU WILL BE USED. All ages, races and genders are welcome. But, you MUST be 18 or over to participate. Filming will take place from 7pm – midnight on Monday night at Castro & Market and from 9pm – 3am on Friday night at Market & Franklin. Come either or both nights. As a thank you for participating, we will host a screening for the marchers of the documentary THE TIMES OF HARVEY MILK on Monday, February 4th at the Castro Theater at 4:30pm, with introductions by the filmmaker, Rob Epstein, Cleve Jones, Gus Van Sant, and members of the cast. The filming will begin immediately after the screening."
Head over to their website to sign up to participate.
Recent Milk News…
First Look at Josh Brolin as SF Supervisor Dan White in Milk [tr]
Grabeel, Luna, Smith Join Milk Cast as Production Begins [tr]
EXCLUSIVE: Victor Garber, Denis O'Hare, Stephen Spinella Join Milk [tr]
Singer's Harvey Milk Film in Jeopardy as Van Sant's Gains Steam [tr]
Gay San Francisco Supervisor Tom Ammiano to Join Milk Film [tr]
Castro Street to Undergo "Time Warp" for Milk Biopic [tr]
AFTER THE JUMP, wardrobe items that are encouraged and discouraged for participants…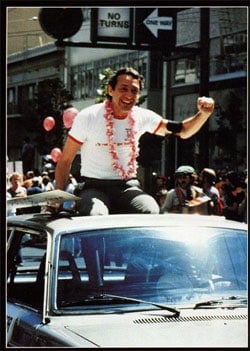 Items that are ENCOURAGED:
* Blue Jeans for Men and Women: Traditional brands and simple blue coloring preferred: Levi's, Lee, Wrangler, etc. Tight fitting with straight leg or flare is preferred.
* Corduroy pants, khakis, other simple pants.
* Denim Jackets, Army jackets, Trench coats, corduroy jackets, brown and black Leather jackets, suede jackets, wool jackets.
* Women's skirts: Knee length, denim, suede; worn with higher leather boots.
* Tops: Wool or cotton sweaters, Henley shirts, solid sweatshirts, solid T-shirts, flannel shirts in solids and plaids such as Pendelton-style wool tops
* Shoes: Canvas sneakers such as converse, leather boots such as Frye, clogs; simple rugged shoes with basic materials such as canvas and leather.
* Hats: Wool knit hats, newsboy hats, bandannas for longer hair, etc.
Items that are DISCOURAGED:
* NO trendy designer jeans with overt modern finishes; extremely faded legs, wiskering, embroidery, large logos, etc.
* NO clothing with branding such as Abercrombie, Nike, Gap, etc; NO overt phrases or logos.
* NO clothing items that are made from identifiable modern materials such as Polar Fleece, Velcro, gore tex, etc.
* NO modern-looking sneakers that appear to be made with advanced materials, air pumps, clear rubbers, etc.
* NO Garish bright colors such as BRIGHT white or red, or "Wacky" disco-themed 70's "Halloween Costumes"