Gay Indian Prince Manvendra Singh Gohil, who appeared earlier this year on Oprah and discussed his coming out in a country where homosexuality is still illegal under an archaic 1861 law put in place by British colonists (Section 377 of the penal code), says he plans to adopt a child so that he will have a royal heir.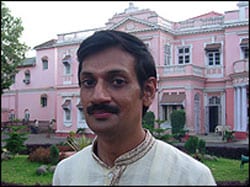 The Times of India reports: " The prince was in Rajpipla on Wednesday to perform the annual ritual of garlanding his great-grandfather Vijaysinh Gohil's statue on his 119th birth anniversary. Asked who would continue this tradition after him, he said: 'I have carried out all my responsibilities as the prince so far and will continue as long as I can. I will also adopt a child soon so that all traditions continue.' Manavendra, who is a divorcee, added that adoption was not new for the royal families as many had taken this route in the absence of a legal male heir. "The Gohil dynasty itself is a case of adoption. Rajpipla was ruled by the Parmar clan, not the Gohils. But the Parmars at one point did not have a male child. One of the Parmar princesses then married the maharaja of Bhavnagar."
Although no single men have adopted children in India, Manvendra says he does not believe that should be an obstacle for him as the only stipulations in place are having no prior offspring and a significant age difference between the adopter and the adoptee.
Previously
Gay Indian Prince Manvendra Singh Gohil to Appear on Oprah [tr]