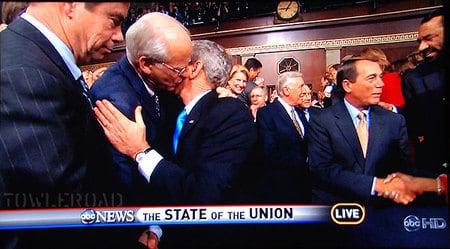 It's amazing the media and discussion that one man-to-man kiss will generate.
Rep. Christopher Shays (CT-R) explained why he kissed President Bush on his way into the House chamber before the State of the Union on Monday night.
Said Shays: "I said some words of encouragement to the President as he walked by and he pulled me close and whispered something very thoughtful and kind in return. I wanted him to feel support as he walked into a very partisan chamber. I know he appreciated what I said to him. I realize many Americans are angry with the President and may even hate him, but I would have said the same thing to any leader who has the burden of the country and the world on his or her shoulders. I am particularly determined in this very ugly, political environment in which we find ourselves that the values of respect and compassion I grew up believing in extend even to a President who has a low approval rating."
Just what sweet nothing did Shays whisper in Bushie's ear before the parting kiss?