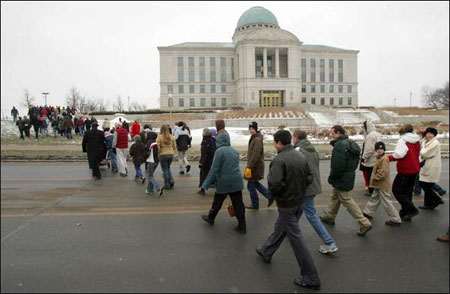 Hundreds of people took part in a "prayer walk" at the Iowa State House in Des Moines coinciding with a State of the Judiciary Speech given by Iowa Supreme Court Justice Marsha Ternus and then gathered en masse in the State House rotunda in an attempt to influence the Supreme Court in its decision regarding the same-sex marriage ruling that came down last August, the Des Moines Register reports.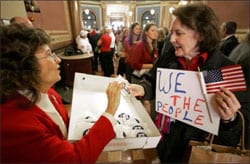 Check out their amazing gallery of the bigots who attended this "prayer walk".
Last August, Judge Robert Hanson ruled Iowa's same-sex marriage ban unconstitutional and ordered the Polk County recorder to begin issuing marriage certificates to same-sex couples. The ruling was stayed shortly thereafter, but not before college students Sean Fritz and Tim McQuillan (above) were issued the state's only same-sex marriage license. That ruling has been appealed and made its way to the State Supreme Court.
Several lawmakers feel that the Court should make a ruling before the legislature gets involved. These bigots who massed at the State House yesterday, organized by the Iowa Family Policy Center and its director Chuck Hurley, feel otherwise, thus the "Let Us Vote" signs. They would like to be able to vote on an amendment banning same-sex marriage, according to The Des Moines Register: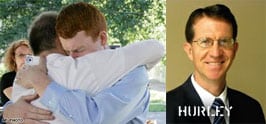 "Amendments to the Iowa Constitution need to be approved by simple majorities in both the House and Senate in two consecutive general assemblies and then be approved by a simple majority of voters in the next general election. That means if a resolution is approved this year and in the 2009 or 2010 session, it can be on the general election ballot in November 2010. If lawmakers wait a year to start the process, the earliest a resolution could reach the ballot is 2012."
Connie Ryan Terrell, executive director of the Interfaith Alliance of Iowa and Action Fund, criticized the demonstration:
"I very much believe these organizations should show respect to the court. It really does disrupt the integrity of the judicial process."
Any time conservatives complain about "activist judges" making liberal decisions, think about this demonstration. Here's evidence of religious conservatives putting pressure on judges to become activists.
These people are praying to God that you and I never have the ability to marry, to share equality in our rights and lives with other citizens of the United States: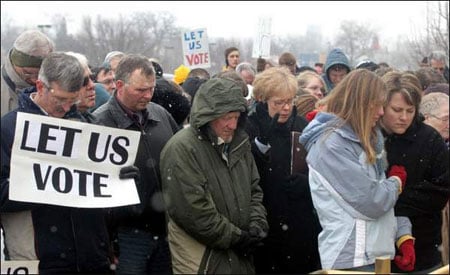 Kudos must go to Iowa Supreme Court Chief Justice Marsha Ternus, however, for her restraint in refusing to dignify the reason these bigots were there. In her State of the Judiciary speech, according to the Sioux City Journal, she did not mention the court's pending same-sex marriage case.
But she did say: "Today, the work of judges is much more stressful, demanding and complicated than it was a decade ago."
She also spoke with reporters after the speech. Said Ternus: "You can do a very good job as a judge and do everything you're constitutionally and ethically required to do, to be fair and impartial. And people don't understand that that's what's required of you. They want something more. They want judges to be more like a legislator or a politician. And that puts judges in a very uncomfortable position. Judges are trained to make decisions based on the law. That's what we do, and that's what we're going to do."
Hundreds ask Legislature for ban on gay marriage [des moines register]
Marriage Amendment Rally GALLERY [des moines register]
Gay marriage case looms over chief justice's speech [sioux city journal]
Previously
Anti-Gay Marriage Rally Planned Today at Iowa Statehouse [tr]
Iowa Catholics Call for Same-Sex Marriage Ban [tr]
Iowa Group Moves to Impeach Judge Who Allowed Gay Marriages [tr]
Democratic Iowa Governor Chet Culver Supports Gay Marriage Ban [tr]
Two Men Married in Iowa's First Same-Sex Marriage [tr]