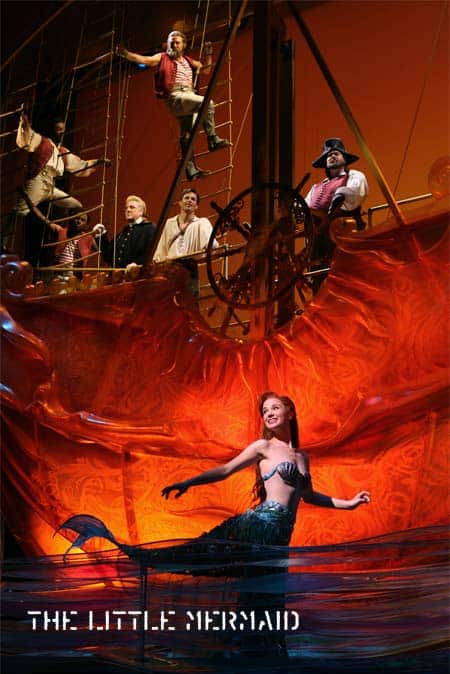 Please welcome Kevin Sessums, who last looked at The Drowsy Chaperone, West Side Story, Xanadu and The Color Purple for Towleroad. You can also catch up with Kevin at his own blog at MississippiSissy.com.
I recently saw two crowd-pleasers — though I have to admit I've never felt part of a crowd, hence my own less enthusiastic responses to the shows than those who were sitting around me. But I always hate when a reviewer fails to mention how an audience with which he or she sees a show — especially one that is an unabashed populist entertainment — has a totally opposite reaction than the one the reviewer is having. Judging by the audience responses the nights I saw these two productions, they should be hits. Go with slightly lowered expections and you might be pleasantly surprised yourself.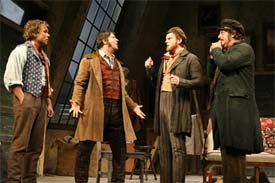 The first crowd-pleaser was Is He Dead? at the Lyceum Theatre. If the rightly acclaimed August: Osage County — which has just extended its Broadway run for a second time — is a like an episode of Mama's Family on the old Carol Burnett Show written by Sam Shepard, then Is He Dead? is like a Georges Feydeau farce written by Mark Twain. In fact, Is He Dead? is a newly discovered play written by Twain and adapted by David Ives. Ives, who is an acclaimed playwright in his own right, has blazed a path for himself as an astute adapter of older works, including 19 classic American musicals for the Encores! series as well as, yes, a translation of Feydeau's A Flea in Her Ear.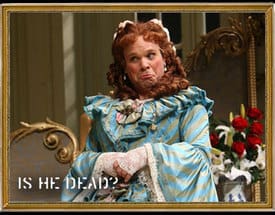 Twain's zany play is set in Feydeau's Paris and concerns a poverty-stricken painter who fakes his own death to bid up the prices of his works and then enjoys the proceeds — as well as the proceedings — when he cross-dresses as his own sister. Norbert Leo Butz as the painter is again giving a hilarious Broadway turn, though his drag act does drag on occasion since he starts the performance at such an antic level that he has trouble sustaining it throughout the play. But he gets every laugh in the script and many that aren't in it as he physically wrings them from the audience. And though he is certainly a handsome woman, he is plainly not the beauty others in the play claim him to be — which may be the point and the source of some of the labored comedy. I thought he looked a lot like Bea Benaderet, one of my favorite actresses as a kid. For those of you younger than I, Benaderet was one of the great character actresses in Hollywood. She was the original voice of Betty Rubble in The Flintstones and played Lucille Ball's best friend in Ball's radio show, My Favorite Husband, which was the basis of I Love Lucy. Benaderet was supposed to play Ethel Mertz in the television show, but had already been cast in the The George Burns and Gracie Allen Show. Later, she played Cousin Pearl Bodine, the mother of Jethro, on The Beverly Hillbillies and then the lead, Kate Bradley, the proprietress of the Shady Rest Hotel and mother of three gorgeous daughters, on Petticoat Junction. Every time Butz came bouncing onto the stage I couldn't help but think he was a reincarnation of a younger version of the bountifully talented Benaderet. Such an evocative performance was enough to keep the interest of this child of the 1950s and 60s.
The rest of the cast is first-rate as well — especially David Pittu who is punctiliously perfect in an array of roles. But my two favorite players were Patricia Connolly and Marylouise Burke who, while everyone around them is expertly chewing the marvelous scenery by Peter J. Davison, underplay their spinster roles while stealing all their scenes. Michael Blakemore — the only director to ever win a Tony for a play, Copenhagen, and a musical, Kiss Me, Kate, in the same year, does a bang-up job keeping the cast in perpetual motion just as he did in an earlier — and funnier — farce on Broadway, Noises Off.
T T 1/2 (out of 4 possible T's)
Is He Dead?, Lyceum Theatre, 149 West 45th Street, New York. Ticket information here.
***THE LITTLE MERMAID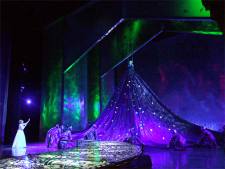 There is certainly a lot of noise in Disney's The Little Mermaid — an apt description for not only what passes for some of its music but also for the deafening sound in the lobby and audience beforehand as the young girls in attendance couldn't quite clamp down on the excitement they were all feeling at the prospect of seeing Ariel, the title character, in-the-flesh. Or in-the-fins, as the case may be, considering which scene one is watching if one's attention hasn't lagged. It certainly wasn't lagging all around me as the little girls and their mothers sat rapt throughout the whole spectacle unspooling in waves on the stage before them.
Continued AFTER THE JUMP…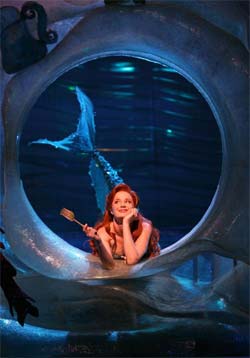 I have to admit I found the production rather vulgar — not in a sexual way, though the subtext of the show could be translated vulgarly if one took it on semiotically. The sets, which centered on a couple of giant plastic totem-like structures with tentacle-like parts that kept changing them and making them suitable for either a fairytale castle or an undersea world were too monstrously pastel for my tastes and too ingeniously constructed. It was like watching two transgendered Transformers. At times — though acid is one of the few drugs I've never sampled — I felt as if I had taken some LSD popped into my mouth from a Pez Dispenser.
For those of you not familiar with the story of the Disney animated movie on which this Broadway musical is based, it concerns Ariel's desire to, yes, transform herself from a mermaid into a human in order to live a married life with the land-bound prince she saves from drowning. She magically trades her mermaid's tale for a pair of legs — a moral that one should change oneself in order to marry the man one loves that I found rather retrograde but caused screams and tears of approval all around me.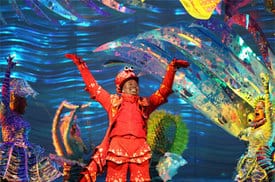 The cast offers a bland professionalism. As Ariel, Sierra Boggess, sings sweetly and looks swell in all her costumes. As Prince Eric, handsome Sean Palmer, looks even sweller — a swell being the operative term — in his. As the seagull Scuttle, Eddie Korbich, and the crab, Sebastian, Titus Burgess, offer expert comic relief, as does Sherie Rene Scott as Ariel's wicked aunt, Ursula, and her henchman, the electric eels, Flotsam, Tyler Maynard, and Jetsam, Derrick Baskin. But the two numbers that brought the house down the night I saw the production were performed by Flounder, Brian D'Addario (who's giving the evening best performance) and Chef Louis, who is portrayed by John Treacy Egan.
The original songs by Alan Menken from the movie, with their lyrics by Howard Ashman, who died of complications from AIDS at the age of 40 in 1991, are of a higher and wittier quality than the ones added for the Broadway version. Doug Wright, who won a Pulitzer Prize for his play I Am My Own Wife and wrote the book for last season's hit musical, Grey Gardens, has fashioned a pun-laden book for this one. Francesca Zambello, the acclaimed director of opera and theatre and winner of many awards, does not have a deft touch where Disney is concerned. And those sets by George Tsypin, an architect and sculptor who has worked for opera houses throughout the world, seem over-the-top and yet condescending to the Broadway audience at the same time — a neat trick in-and-of-itself I guess. And since most of the leads are on some sort of roller skates to mimic the movements of water creatures, the choreography of Stephen Mear can't help but be a bit labored. Watching them roll along the stage, I just kept longing to be back watching Xanadu.
I don't mean to sound too crotchety about the production. Indeed, if you'd like to be an ideal Auntie or Uncle Mame and give your young nieces — and a certain type of young nephew of which I admittedly was — a thrilling first Broadway experience, then take them to see this production. Just be warned, you might be rolling your eyes as the cast keeps rolling from scene to scene to endless scene before the final curtain.
T 1/2 (out of 4 possible T's)
The Little Mermaid, 205 W. 46th Street, New York. Ticket information here.
Previous reviews…
On the Stage: Holiday Fare — The Drowsy Chaperone, West Side Story, Xanadu and The Color Purple [tr]
Doris and Darlene and The Homecoming [tr]
On the Stage: The Seafarer and August: Osage County [tr]
On the Stage: Trumpery [tr]
On the Stage: Make Me A Song, The Music of William Finn and The 25th Annual Putnam County Spelling Bee [tr]