Pam Spaulding covers the unsavory details and unpleasant memories emerging from the DNC anti-gay discrimination trial filed by former LGBT outreach director Donald Hitchcock: "We all know the party has had to figure out how to placate the LGBT constituency and keep the gay press at bay while trying to tap the religious vote; you'd think they'd want to put more effort into getting non-voters to show up at the polls. Way too much energy is being spent on the wrong things — revisionist history, posterior-covering maneuvers, bickering — there's so much to be done in 2008 and folks need to keep their eyes on the ball."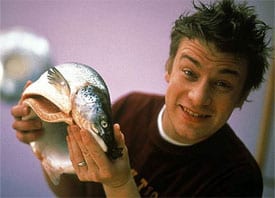 UK 'naked chef' Jamie Oliver to slice up obese human corpse on TV in order to prove point about overeating? Oliver: "This all stems from shoving s*** in your mouth. This man ate himself to death."
Too good for Newsweek: Clay Aiken's above-it-all interview reveals nothing about his fight on a plane, Kelly Ripa and homophobia, Ford commercials, or high school football.
2007 Darwin Awards announced: "the Darwin Awards commemorate those who improve our gene pool by removing themselves from it."
Spanish national election set for March 9 seen as showdown over values: "Antonio Poveda, president of the State Federation of Lesbians, Gays and Transsexuals (FELGT), a group essential in organizing massive gay pride demonstrations in favor of same-sex marriage, said his group wasn't planning any street protests. But they would be engaging in public information campaigns ahead of the election, he said. Poveda said Spain has become one of Europe's most progressive countries in same-sex issues, with same-sex marriage continuing to have 60 percent approval. He thinks the recent attacks on gay marriage by conservative Catholics will backfire because 'people are sick of having that type of doctrine imposed on them.'"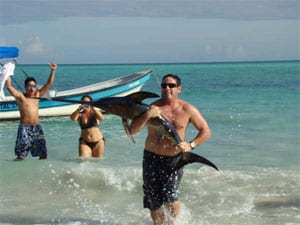 Florida man catches swordfish with bare hands: "It has not been determined if the fish was sick, or had been recently caught. After a few photos, and some cuts and bruises on the man who caught the fish, the fish was released."
Madonna denies that 'Raising Malawi' charity is actually a front to funnel money into Kabbalah. REP: "The reality is – and it's never been a secret – that the Raising Malawi organization was co-founded by Madonna and Michael Berg, who is one of the spearheading executives of the Kabbalah organization. The Raising Malawi organization is completely separate from the Kabbalah, and they are run as two separate organizations. Accountability will be very clear and very specific, and all funds will be accounted for."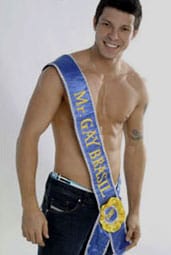 Who's the gayest of them all: waxed muscledudes battle for the gay sash in L.A.!
Maryland Insurance Administration's definition of "domestic partnership" inspires outrage from "pro-family" groups: "To qualify for coverage under the new regulation, domestic partners must be at least 18, can be straight or gay, and must have lived together for at least six consecutive months. The definition incensed Republican lawmakers, the Maryland Catholic Conference and a group promoting traditional values, which said it sanctifies cohabitation by straight couples. 'Now you can just say, 'I break with thee,' and you're gone, you can enter into a new relationship,' said Del. Michael D. Smigiel Sr. (R-Cecil), noting that Maryland law requires married couples to separate for a year before seeking a divorce. Added Doug Stiegler of the Maryland Family Protection Lobby: 'This legalizes cohabitation. It's a huge cultural change.' Although they did not attack same-sex couples directly, opponents said the state insurance agency should not be in the business of telling insurance companies who qualifies for medical coverage."
Critically-acclaimed queer hip-hop opera Bash'd headed back to Toronto and then to off-Broadway in June.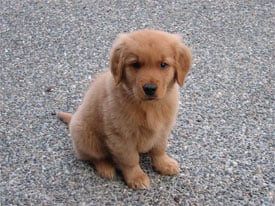 PETA killed 97% of the dogs, cats, and other pets it took in for adoption in 2006: "During that year, the well-known animal rights group managed to find adoptive homes for just 12 pets. The nonprofit Center for Consumer Freedom (CCF) is calling on PETA to either end its hypocritical angel-of-death program, or stop its senseless condemnation of Americans who believe it's perfectly ethical to use animals for food, clothing, and critical medical research. Not counting animals PETA held only temporarily in its spay-neuter program, the organization took in 3,061 'companion animals' in 2006, of which it killed 2,981. According to Virginia's Department of Agriculture and Consumer Services (VDACS), the average euthanasia rate for humane societies in the state was just 34.7 percent in 2006. PETA killed 97.4 percent of the animals it took in. The organization filed its 2006 report this month, nine months after the VDACS deadline of March 31, 2007. 'Pet lovers should be outraged,' said CCF Director of Research David Martosko. 'There are thousands of worthwhile animal shelters that deserve Americans' support. PETA is not one of them.' In courtroom testimony last year, a PETA manager acknowledged that her organization maintains a large walk-in freezer for storing dead animals, and that PETA contracts with a Virginia cremation service to dispose of the bodies. In that trial, two PETA employees were convicted of dumping dead animals in a rural North Carolina trash dumpster."
UGLY: Dad sodomizes 18-year-old stepson with metal object and beats him with a baseball bat to avenge rape of 8-year-old daughter.