Nominations for the Eighth Annual Weblog Awards (the 2008 bloggies) are now open. Now, we're not telling you who to nominate, but (wink, wink) there is a GLBT category!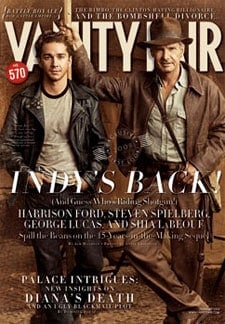 Something for everyone: Shia LaBeouf and Harrison Ford deck out the new issue of Vanity Fair.

Hey big spender: Suze Orman closes on $3.6 million apartment in New York's refurbished Plaza Hotel.

Shake-up at ABC's Brothers and Sisters: Creator Jon Robin Baitz leaving the show? "Whether this truly is Baitz's 'endgame' in television and the end of his work on Brothers & Sisters is not entirely clear. Earlier in the same post he seems to contradict himself by indicating some level of future involvement with the show he created: 'Now I look forward to writing the odd episode or three, and being useful as close-reader of the cosmology of the show when asked.' AfterElton.com contacted Baitz's representation for a comment, but no reply was received (possibly due to the holidays)."

Jude Law sees ghost of Frank Sinatra crouched at his hotel's mini-bar.

United States of Pop: DJ Earworm presents a mash-up of Billboard's top 25 most popular songs in the U.S. last year.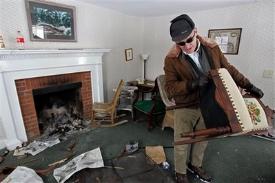 Some say the world will end in fire: Poet Robert Frost's former home ransacked and burned at what police say was an underage drinking party. "The intruders broke a window to get into the two-story wood frame building — a furnished residence open in the summer — before destroying tables and chairs, pictures, windows, light fixtures, and dishes. Wicker furniture and dressers were smashed and thrown into a fireplace and burned, apparently to provide heat in the unheated building, he said. Empty beer bottles and cans, plastic cups, and cellophane apparently used to hold marijuana were also found, according to Hodsden. The vandals vomited in the living room and discharged two fire extinguishers inside the building, on a dead-end road off Route 125."

Former Brit boyband singer Lee Ryan arrested for assault on London taxi driver.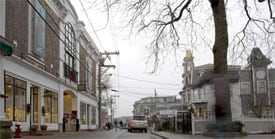 13 unsolved arson fires in the last 11 weeks have Provincetown on edge and part-time fire department working overtime: "The town's chief fire officer — part-time Chief Michael Trovato — is supposed to report to state authorities in writing within 48 hours any fire or explosion that results in loss of property. But those reports, called the Massachusetts Fire Incident Reports, have not been completed, based on several requests by the Times starting Dec. 11. The fire reports are usually available for public inspection and can serve as a foundation — the first responder's version — of a suspicious fire, said Hyannis Deputy Fire Chief Dean Melanson, who said he was not commenting specifically on Provincetown, and the state fire marshal's spokeswoman, Jennifer Mieth. Trovato said Thursday the reports have not been completed because the number of fires— and his part-time status — have made it tough to keep up with the paperwork. '"And because the fire chief is really exhausted and overwhelmed,' Trovato said, speaking of himself."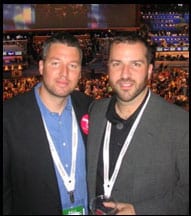 Top DNC officials subpoenaed in discrimination lawsuit: "Those ordered to provide sworn testimony include chairman Howard Dean, openly gay treasurer Andy Tobias, and Gay and Lesbian Leadership Council executive Director Brian Bond. The suit charges that a campaign of infighting, discrimination and retaliation led to the illegal firing of Hitchcock after his partner, former Clinton appointee Paul Yandura, criticized the Party for what he claimed was a lack of support for LGBT causes, especially on the issue of defeating anti-gay ballot measures."

Friend of gays Katherine Heigl gets hitched but where's the bridesman T.R. Knight?

Northern Ireland Gay Pride controversy reaches House of Commons: "Stormont Minister Nigel Dodds has thrown his weight behind DUP protests over a placard carried at the Belfast Pride event which read 'Jesus is a fag'. And Security Minister Paul Goggins has revealed that the Parades Commission is seeking a meeting with the march organisers following complaints about alleged breaches of its code. The DUP were outraged when one participant was seen carrying the controversial placard during the colourful August 4 event."

Book explores the "artlessness" of Mapplethorpe's Polaroids: "I thought if I could somehow bring that element into art, if I could retain that feeling, I would be doing something that was uniquely my own."