South African HIV/AIDS activist and founder of that country's Treatment Action Campaign Zackie Achmat married his partner Dalli Weyers over the weekend in front of 300 guests at the Imperial Yacht Club near Cape Town.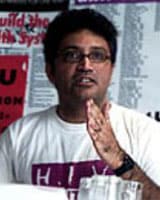 The Sunday Times reports:
"Judge Edwin Cameron, complete with glitter eye make-up, officiated. He had applied to become a magistrate in the Wynberg district for the day so he could conduct the ceremony. Guests at the cheerful and relaxed occasion included Cape Town mayor Helen Zille, cartoonist Jonathan Shapiro, axed deputy health minister Nozizwe Madlala-Routledge, Judge Dennis Davis and former South African high commissioner Cheryl Carolus. The wedding invitations bore the slogan 'safe sex, antiretroviral drugs and rock 'n' roll' — a play on the sex, drugs and rock 'n' roll mantra of the '60s and '70s."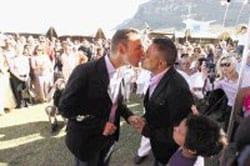 Achmat has worked to make TAC respected throughout South Africa by focusing on health care programs in the public sector. He also founded the National Coalition for Gay and Lesbian Equality, won the inaugural Desmond Tutu Leadership Award, the Jonathan Mann Award for Global Health and Human Rights in 2003, and the Nelson Mandela Award for Health and Human Rights in 2003. A U.S. Quaker humanitarian group nominated him for a Nobel Peace Prize in 2004.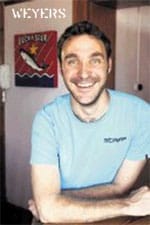 Weyers told South Africa's Sunday Times: "The nervousness fortunately only relates to getting everything done. But nervous for the actual ceremony? No. It is just a natural step and I don't think Zackie or I will have extra expectations of each other after the ceremony. We are very in love and that is obviously going to go on, so we don't see the ceremony as necessarily changing anything. We are very excited because the day essentially will be about family and friends and sharing it with them."
Added Achmat: "What attracted me to Dallie was his degree of maturity, a sense of seriousness and also that he is a very decent human being — apart from the fact that he is a very handsome man with the most beautiful eyes you've ever seen. So clear and strong. Our relationship is one of deep companionship and a love for life and shared but not identical interests. [My life] is very difficult and busy and also one of the difficulties in making the decision was obviously that he doesn't have HIV and I do and I always worry about that. Then there is the age difference, which is enormous. I am 45."
According to the paper, "The honeymoon will be spent at a friend's lodge in Lesotho and visiting Weyers's mother Delina at her Free State home."
Best wishes to them!