Peter LaBarbera of Americans for Truth kicks off gay-bashing over MRSA staph infections.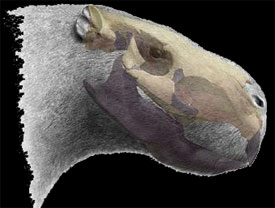 Scientists discover ancient skull of a rat that was the size of a car: "The creature lived about four million years ago, weighed about a tonne and ate mostly soft vegetation. It was so big that it probably spent much of its life semi-submerged in water, like a hippo, to reduce the stresses caused by its size."

EVICTED: Broadway musical RENT to end run on June 1st after 5,012 performances.

Warrantless wiretapping will be a "walk in the park" comapred to the plans that National Intelligence Director Mike McConnell has for cyberspace that would give the government the authority to examine the content of any e-mail, file transfer or Web search.

Seth Green wins the prize for cheesiest mustache ever.

Yesterday, I posted that a judge ruled Dennis Kucinich could participate in the Las Vegas MSNBC debate. At the last minute, the Nevada Supreme Court overturned that decision. Here are the details: "The Supreme Court's unanimous order said that blocking the debate unless Kucinich got to participate would be "an unconstitutional prior restraint" on the news network's First Amendment rights. Justices also said the lower court exceeded its jurisdiction by ordering Kucinich's participation even though "he first requested and was denied relief" from the Federal Communications Commission."

HARD LABOR for Homosexuality: Sentence handed down in Cameroon.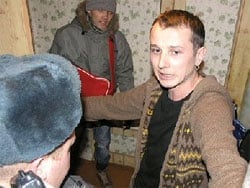 KGB and militia raid apartment of Russian gay TV journalist: "A group of his gay friends soon arrived to support the journalist. They offered to be witnesses of the search. But the militia and KGB agents forced them to leave. The hard disk from the journalist's computer was confiscated, along with a video camera and a flash memory stick. Mr. Padsasonny is said to have fled Gomel and is now in hiding."

Miss the American Idol premiere? Here are last night's four audition tragedies.

Australian singer Sia (you may remember her "Breathe Me" song that covered the final moments of Six Feet Under) is a lesbian. She also says she was "born out of the butthole of a unicorn called Steve."

For British man with gigantic 13 1/2-incher, bigger is not better.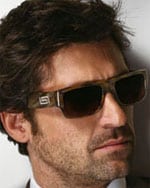 McDreamy wants to show he's more than just a suit.

mtvU looking for people willing to talk about their HIV-positive status or how AIDS/HIV has affected them in some way: "MTV's college channel, mtvU, and the Kaiser Family Foundation have teamed up to develop an anti-stigma campaign in partnership with POZ Magazine. The goal of the project is to challenge common misperceptions about people living with HIV/AIDS in the United States. The heart of the project will be a collection of photos and stories about real people who are either HIV positive, or are HIV negative but have in some way been affected by the virus. We are seeking a diverse group of people willing to be featured online and perhaps on-air with their photo, their HIV status, and their story about why HIV is an important issue to them. If you are U.S.-based person, 18 years of age or over and would like to lend your face and story to this project, please contact noopur.agarwal@mtvstaff.com as soon as possible. No direct link to HIV/AIDS is necessary – an interest in the issue is sufficient."

George Michael lands multi-millon dollar deal for his memoirs: "one of the biggest book deals ever concluded in UK publishing."