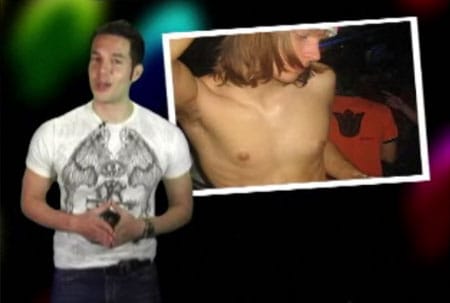 As you may remember, gay Big Brother 9 housemate Neil Garcia left the house abruptly for reasons that have not been revealed.
Presumably he made these five "instructional" videos for WeHoPedia TV before his Big Brother stint, because I'm not sure I would call this gig something to run out the door for.
In the video below, Neil provides basic instruction on what a "twink" is:
"Twink is a gay term describing an attractive young or younger gay man, usually in his late teens or early 20's. He's got a slender build and little to no body hair. The term twink is often modified by various descriptors such as the 'butch' twink, 'femme' twink, 'euro' twink, and the 'muscle' twink! The term is an allusion to the Twinkie pastry which is golden or blond on the outside, with cream on the inside, and is pleasantly sweet but with little nutritional value. There is a 'backronym' that states twink stands for teenaged, white, into no kink. Although none of these things are either necessary or sufficient for being a twink. Thanks for watching WeHoPedia TV. I'm your host, Neil Garcia."
NOTE: I was having an issue running the videos with some browsers, particularly Safari.
AFTER THE JUMP, four more videos about West Hollywood, and the terms "Bisexual Chic", "Questioning", and "Bi Curious".
Recently
Big Brother 9's Adam Refers to Housemate Joshuah as a "Faggot" [tr]
A Message from Big Brother 9's Gay Boy Neil [tr]
Big Brother 9: Sex, Sex, and More Sex [tr]
Big Brother 9 Sees its First Naughty After Dark Action [tr]
Shock Overnight Developments for Gay Team on Big Brother 9 [tr]
(thanks kenneth)