Episcopal Bishop Paul Moore Jr., who died in 2003 and was the Bishop of New York for 17 years, had a secret. He was gay.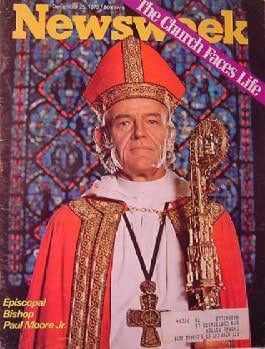 In next week's issue of The New Yorker, Moore's daughter writes about his service to the church, and his private life. While the full article is not online yet, the New Yorker has published an audio excerpt of the piece read by Honor Moore.
Page Six reports: "His daughter, Honor Moore, the eldest of nine children he had with his first wife, Jenny McKean, writes that six months after his death, 'the telephone rang. [The caller] had a confident voice. Andrew Verver (as I'll call him) was the only person in my father's will whose name was unfamiliar.' When Honor asked 'Verver,' who had traveled with Moore to the Greek island of Patmos the summer before, about her father's sexual life, he replied, 'I was his sexual life,' and, 'Of course, there were other men.' Then, Honor describes bringing 'Verver' on a touching visit to Moore's grave in Connecticut."
Moore, who made the cover of Newsweek in its 1972 issue published on Christmas, was the first Episcopal bishop to appoint an openly lesbian priest in the church.
Following his death, Mark Oppenheimer wrote in the New York Times: "With the death this year of Paul Moore Jr., the Episcopal bishop of New York from 1972 to 1989, America lost one of its last dashingly handsome, abundantly sexual WASP crusaders for social justice. Like his contemporary John Lindsay, the mayor of New York and a fellow alumnus of St. Paul's and Yale, Moore chose to put his social connections and magnetic charm in the service of the kind of people he was raised not to think much about: the poor, blacks, those on the margins of society."
Confessions [the new yorker]