Australia issues official apology for mistreating Aborigines: "Prime Minister Kevin Rudd told parliament that past policies of assimilation, under which aboriginal children were taken from their families to be brought up in white households, were a stain on the nation's soul. 'Today, the parliament has come together to right a great wrong,' Rudd said. 'We apologize for the laws and policies of successive parliaments and governments that have inflicted profound grief, suffering and loss on these our fellow Australians.'"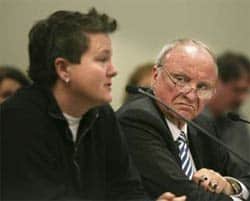 Yep, that's a look of pure hate if I've ever seen one.

Brad Pitt to renege on promise that he would not be getting married until gay people can?

Back to TV: The writer's strike is officially over!

Brazilian gay rights leader Alexandre Peixe dos Santos bashed: "gagged, hooded and beaten by an unknown number of attackers."

London to host 2009 European gay rugby Union Cup: Mayor of London Ken Livingstone, said: 'The tournament will provide a platform to introduce lesbian and gay sport to new audiences.' The first Union Cup was held in 2005 in Montpellier, France and then in Copenhagen, Denmark in 2007."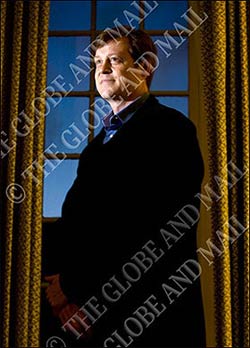 Man claims to be JFK's son, wants DNA TEST from Kennedy clan.

Scottish police station hoists rainbow flag. Chief Inspector: "The contribution of LGBT people is often forgotten or ignored. It's great the police is able to recognise those efforts. It sends out the message of support to staff members and the wider public that the force is committed to diversity and equality. I'm sad if some people are unhappy about the flag for religious reasons, but I know many religious people who do not feel it goes against their faith and they are very supportive."

Court orders $3100 fine for Swedish kennel owner who refused to sell a puppy to a woman because she was a lesbian.

Hod: Jewish Orthodox gay group's web presence is born: "We are being watched with a magnifying glass right now. We have to be careful not to ruin our relations with the Orthodox establishment. Besides, we are not at the stage where we can express our opinions about same-sex partnerships and families. Our battles are at a much more elementary level. We are trying to convince rabbis, educators, lay leaders and even the general public that homosexuality is not a mental sickness."

CLASSY: Paparazzi snaps Michelle Williams beside skeleton on first day back from Heath Ledger funeral.

Patron turned away from South African gay bar because of his race.

Birth of gay group at University of Alabama remembered with exhibition: "25 years later, a collection of everything relating to the group — papers, posters, letters, shirts — has been donated to the university's archives. 'No school is fully represented by its official records. We need the unofficial record, too,' said Clark Center, curator of the W.S. Hoole Special Collections Library. 'The collection is important in that it represents a student group's activities and their intersection with the wider world.' The collection was gathered by Josh Burford, who was approached about a year ago by students wanting to research homosexuals in Tuscaloosa for a paper in his class on modern gay America. By calling on past faculty advisors and members of the group, he was able to collect boxes of papers still kept in basements and offices."

Listen to Mariah Carey's new track "Touch My Body".