Siegfried & Roy will stage a one-night comeback and likely face the white tiger that mauled and nearly killed Roy Horn in 2003: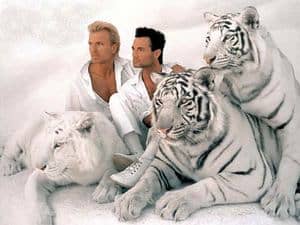 "Horn was critically injured when the white tiger, Montecore, sank its teeth into his neck and dragged him offstage in front of a horrified audience at The Mirage in October 2003, ending one of the most successful casino shows in Las Vegas history. The pair have said they believed Montecore sensed Horn was having a ministroke and was dragging him to safety, rather than attacking him. Publicist Dave Kirvin said Monday the German-born duo are working out plans for the act, adding that he would be 'very surprised if animals were not part of the performance…Siegfried and Roy and white lions and other endangered animals go hand in hand,' he said."
The performance will be part of a benefit for Alzheimer's disease.