Cleveland Browns QB Brady Quinn reportedly used the word "faggot" toward a man leaving Columbus gay spot Union Cafe Bar + Food on New Year's Eve. Quinn was among a group of perhaps 10 people outside La Fogata Grill, a Mexican restaurant adjacent to the gay bar, but according to a 911 caller from the scene, used the slur as tensions rose between patrons of the establishments.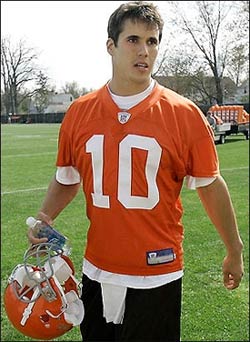 The Cleveland Plain Dealer reports: The call at 2:35 a.m. came from Seth Harris, who reported that he encountered the group in front of La Fogata Grill at 790 North High St…On the 9-1-1 call, Harris said that 'Brady Quinn from the Browns' was 'trying to cause a fight.' Harris told the operator, 'I just walked outside and he exchanged many profanities with me and called me a faggot, of course.' Reached Monday by The Plain Dealer, Harris confirmed that Quinn was the person who used the slur. 'I knew who it was,' he said. 'It wasn't just directed at me, there were other people around, too.' He said Quinn was with a 'big group' of friends numbering perhaps 10, and that the quarterback 'wasn't as involved as' others were in stirring up trouble. 'He was standing back and letting his friends do most of it,' Harris said. On the call, Harris told police that 'this has been going on all night and nobody has stopped anything.'"
The paper has a recording of the 911 call from that night.
The paper adds: "On the 9-1-1 call, Harris told police that he feared for his safety. 'I'm not going to wait for police because it's going to turn ugly,' Harris said. 'They are being very violent and I probably should get away.' A Columbus police spokeswoman said officers arrived several minutes after Harris' call and found Quinn in the midst of an argument with 32-year-old Jason Thompson. 'I don't believe there were any punches being thrown — it was more verbal than anything,' said Columbus police spokeswoman Amanda Ford. 'When we got there, he was very cooperative and just stopped,' Ford said of Quinn's encounter with police. 'I think his friends were like, 'Let's get out of here.' However, police arrested Thompson when "he wouldn't back down and turned on officers," Ford said."
Gloria McCauley, executive director of the Buckeye Region Anti-Violence Organization, called the Quinn slur "very distressing" according to the paper. Said McCauley: "That person is in theory a role model for so many people. To have one of our well-known people engage in behavior that I consider hateful saddens me. We obviously need to do a lot more education."
The Browns have made no comment on the incident. We'll see what comes of this.