She's back…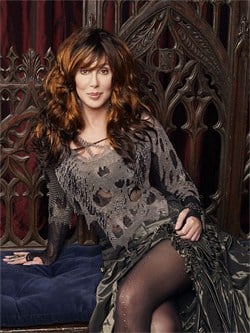 Cher is returning from the 'retirement' she took three years ago, taking up (literally) where Celine Dion left off at Caesar's Palace in Las Vegas, USA Today reports:
"The indestructible diva, who retired from touring in 2005, will star in a song-and-dance spectacle starting May 6 at the 4,100-seat Colosseum in Caesars Palace. She'll perform four shows weekly for one month, then return mid-August through early October, leapfrogging stints with Bette Midler. Her pact with promoter AEG Live extends three years.
Says Cher: "Creatively, we're doing something that's never been done with sets. Getting the whole thing in book form, in pictures, has taken months. Our set moves down from the ceiling, in from the sides, up from the floor. We have screens in the foreground, the center and the back. We can change a city into a forest in two seconds. You'll see a different stage for every song."
The show plans to cover "all chapters of Cher's career, from her Sonny & Cher start to her recent dance-pop phase" according to the paper.
She also talked to USA Today on a variety of topics, and gives a nod to a devoted fanbase:
"On every list, I was always on my way out. Gay men understand that I understand what it's like to be an outsider. To singers, I wasn't a singer. To actors, I wasn't an actor. I know what it's like to fight for your place. Besides, gay men are very choosy, and they have great taste."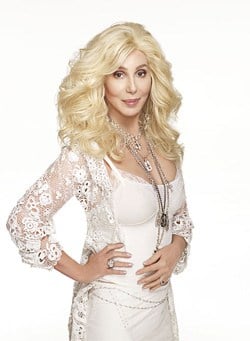 On her age (61): "How did this happen? I used to be the youngest one around. I remember talking to my grandmother when she was in her 80s, and I said, 'How does it feel?' She said, 'I only notice it when I go to the mirror.' She was up for anything. So am I. I'd better do what I can do while I can do it."
On her public persona: "I find that men are intimidated by who they think I am. One night, Michelle Pfeiffer and I wanted to go out dancing, so we went to a club, sat down, and no one asked us to dance. I thought, this is crazy. Two of my gay friends came in and we danced with them for an hour. You have this baggage that comes with your image."
On tattoos: "I might take some more off. When I got tattooed, only bad girls did it: me and Janis Joplin and biker chicks. Now it doesn't mean anything. No one's surprised. I got a tattoo right after I left Sonny (Bono) and I was feeling real independent. That was my badge."
On the paparazzi: "I used to be able to run around in my sweats. Now I'm a prisoner. I think 'scum' is a perfect word for these people. They're meaner now. Before, they would be happy to get a picture. Now they want something salacious or to make you look bad. "Everything's more mean-spirited now. My sister was telling me about a show that hooks people up to lie detectors (Fox's The Moment of Truth). I don't like reality shows. I saw American Idol one time and said, 'Well, I never need to see this again.' I thought it was boring. I wasn't entertained."
Cher also says she's supporting Clinton this election cycle: "I'm supporting her because I know her and I like her and she's smart and a tough girl. But I don't have much respect for either party. I just think Republicans are worse."
Cher plans 'visually unbelievable' Las Vegas gig [usa today]
Cher shares: Life, love, tattoos, politics, paparazzi [usa today]