Human Rights Watch this week reported on a number of arrests in Cairo, Egypt "sparked by one man's admission to police that he was HIV-positive" that began in October of last year. It all began after two men had an "altercation" in the street and were reportedly stopped by police: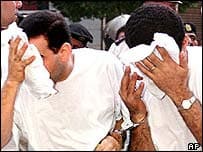 "When one of them told the officers that he was HIV-positive, police immediately took them both to the Morality Police office and opened an investigation against them for homosexual conduct. The two men told human rights defenders that they were slapped and beaten for refusing to sign statements the police wrote for them. They spent four days in the Morality Police office handcuffed to an iron desk, sleeping on the floor. Police later subjected the two men to forensic anal examinations designed to 'prove' that they had engaged in homosexual conduct. Human Rights Watch has documented that such examinations to detect 'evidence' of homosexuality are not only medically spurious but constitute torture. Police then arrested two more men because their photographs or telephone numbers were found on the first two detainees. Authorities subjected all to HIV tests without their consent. All four are still in detention, pending prosecutors' decision on whether to bring charges of homosexual conduct. The first two arrestees, who reportedly tested HIV-positive, are being held in a Cairo hospital, handcuffed to their beds and only unchained for an hour each day."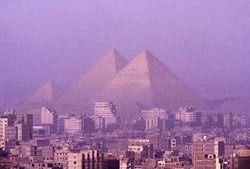 Following these arrests, the police reportedly placed their apartment under surveillance and detained four additional men who came to inhabit it for homosexual conduct, with no evidence.
According to Human Rights Watch, "People who have spoken to the four men since their arrest told Human Rights Watch that a non-commissioned officer in the police station beat one detainee on the head several times. Police allegedly forced the four men to stand in a painful position for three hours with their arms lifted in the air. They were provided no food, drink, or blankets during their first four days of detention. Authorities also tested these men for HIV without their consent. One of the men reportedly said that the prosecutor, when informing him that he had tested positive for HIV, told him: 'People like you should be burnt alive. You do not deserve to live.'"
The BBC reports: "While not explicitly referred to in Egypt's legal code, homosexuality can be punished under several different laws covering obscenity, prostitution and debauchery. Egypt has come under repeated criticism by both human rights groups and the international community for its treatment of homosexual people."
Egypt: Stop Criminalizing HIV [human rights watch]
Egypt 'torturing HIV sufferers' [bbc]
HIV-positive men in Egypt reflect ignorance, injustice [iht]
Egypt chaining HIV men to hospital beds: rights group [afp]