Another ugly story of bullying, this time out of Colorado, where a new hate crime law may make this kid's teen attacker the first to be sued for punitive damages.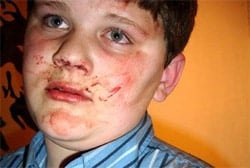 "…for two years, Adrian kept a secret from every adult he knew, even his father: The verbal abuse he says was heaped on him from other students. Bullies called him 'Nazi,' because he is from Germany, and 'gay,' because he is a musical-theater prodigy who stars in professional plays. And despite what Cherry Creek Schools calls a proactive effort to curb bullying, including classroom discussions, plenty of kids knew Adrian was a target and nearly a dozen watched him get beaten up at a school-bus stop in November. Adrian had bruises and a broken collarbone. 'They didn't lift a finger to help him,' Heinz Ulm said of his 14-year- old son. 'I can't understand that.' His attacker won't face criminal charges, because Adrian voluntarily took part in the fight, the Ulms were told. But a 2-year-old amendment to Colorado's hate-crime laws could make Adrian's assailant the first youth in Colorado to be sued for punitive damages on the basis of school bullying. 'I would definitely describe this as a hate crime,' said Adrian's lawyer, Gregg McReynolds, who has not made a decision about a suit."
Please don't wait until the bully returns to shoot him in the head. Sue 'em.
Cherry Creek teen may face bully in court [denver post]