One of the judicial nominees Bush has been threatening a recess appointment for was recently arrested for DUI wearing a little black dress, fishnet stockings and stilletto heels: "Apparently, Federal Judge Robert Somma, rear-ended another motorist in his Mercedes-Benz after tying one on in a local gay bar. He had difficulty locating his drivers license in his purse. His wife, Wendy, says he's not interested in talking to the press right now."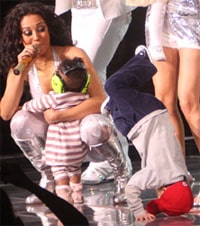 Spice Girls shocked by baby breakdancing Beckham.

Wisconsin gay rights group utilizes election to raise awareness of upcoming court vacancies.

British BMW salesman forced from job by homophobic co-workers: "Ben Hamilton, 26, claims he was branded 'the nice poof', 'faggot' and 'bender Ben' by workmates at a BMW showroom. He told the hearing he was banned from wearing pink clothing and was made to change. And when he grew a beard he claimed colleagues walking past him would jeer the phrase 'Deal or No Deal?' at him after gameshow host Noel Edmonds up to 30 times a day. Mr Hamilton said a manager told him: 'It must be great to be gay. Does it mean you and your fella can go out, have a few beers, have a curry, beat each other up and still get laid?'"

Space Shuttle Atlantis heads home from International Space Station in preparation for Navy shootdown of errant spy satellite.

Student: Goldfish aren't the peabrains you think they are.

Excavated remains identified as Sir Hugh Despenser the Younger, lover of King Edward II: "Despenser died a gruesome death, being publicly hung, drawn, quartered and disembowelled for treason in 1326 following Edward's fall. The remains, found in the 1970s on Despenser's brother-in-law's estate at Hulton Abbey, Staffordshire, bear such hallmarks, anthropologist Mary Lewis says. Lewis, from Reading University, made the link by drawing on the manner of execution, carbon-dating of the bones and the absence of several parts of the body. The skull, part of the vertebra and one leg are buried on the family estate at Tewkesbury Abbey. 'Research on the bones shows he was stabbed in the throat and probably stabbed in the stomach, but we would not have any evidence to disembowelment unless the knife had hit any bones,' Lewis said."

Writer Andrew Holleran pays a visit to Fort Lauderdale.

Ben & Jerry endorse Obama, scoop "Cherries for Change" ice cream. "Barack is showing that when you lead with your values and follow what you have inside that good things will happen. What we saw is that when you want real change it's not a marketing slogan. You have to do things differently. And that is not going to be done by someone who's been involved in the system for years and years. It needs to come from inside and Barack Obama has it."

Winehouse likes her chicken fried.

Jason Statham drops the big burly half of himself.

Japan's top court rules Mapplethorpe photos not obscene: "The verdict was hailed as a victory for artistic freedom by a Japanese publisher who filed the lawsuit. His copy of a Mapplethorpe book was seized in 1999 when he tried to bring it from the United States for personal use. Reversing a lower court ruling, the Supreme Court ordered customs to lift its ban on bringing in the book of photographs, entitled 'Robert Mapplethorpe.' In the 2003 ruling, the Tokyo High Court ruled that the book, which included images of male genitals, went 'against good sexual morality.' But Kohei Nasu, the presiding judge, said at the Supreme Court: 'The book and pictures do not fall into a category that would disturb the public,' as quoted by Jiji Press."

UK father-to-be charged in "cowardly, disgraceful" attack on homophobe mistaken for gay man: "John Edwards, prosecuting, told York Crown Court yesterday the assault happened last July when Mr Sandey was returning home along St Mary's by the riverside in York after a night out. He said the area was known to be frequented in the evening by homosexual men, and a passer-by heard one of the group shouting homophobic insults. 'When the defendant pleaded guilty he did so, acknowledging this was aggravated by homophobia. The target of their violence, quite randomly it would seem, was this complainant,' he said. A woman who saw the attackers, including Walls, described seeing Mr Sandey on the ground. The men were punching him before one – it is not known who – jumped on his leg as they shouted 'he is a pervert'. Afterwards Walls spoke to the witness, telling her his name. Forensic experts later found blood on him."