I had forgotten that AfterElton was doing a "Gay People's Choice Awards" contest but was extremely pleased to wake up this morning and find out that Towleroad won an award for favorite blog. Thanks to all of you who put in our name for this. It's much appreciated! Check out all the other winners HERE!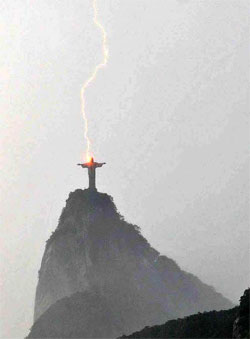 Sweet Jesus! Lightning strikes Christ the Redeemer in Rio.

Hillary Clinton 2008 bid hinging on Ohio and Texas. Superdelegate: "She has to win both Ohio and Texas comfortably, or she's out. The campaign is starting to come to terms with that."

Mariah Carey names new album E=MC².

Facebook is the Hotel California. You can check out any time, but you can never leave. "Even if users terminate their membership, pictures of them posted by others remain online. But users can't really quit, anyway. Like guests at the Hotel California, people who check out of Facebook have a hard time leaving. Profiles of former members are preserved in case people want to reactivate their accounts. And all users' digital selves can outlive their creators. As the company's "terms of use" explain, profiles of deceased members are kept "active under a special memorialized status for a period of time determined by us to allow other users to post and view comments."

First all-Black production of Cat on a Hot Tin Roof hits Broadway.

Victory Fund intern is nation's youngest Superdelegate!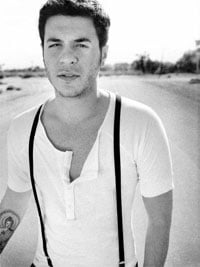 If you aren't aware of Ferras yet, you will be soon. His single "Hollywood is Not America" has been licensed by American Idol as the song that's played when the losers hit the road after they're voted off the show. "Bad Day" made Daniel Powter a household name when he was a relative unknown. NewNowNext interviews Ferras about his expectations for the future, and, of course, his love of the gays.

SPOILERS: Wentworth Miller gets wet.

Florent files suit over extending restaurant lease. Judge: "I know this restaurant–Florent is a great place."

Can sugar substitutes make you fat? "Animals fed with artificially sweetened yogurt over a two-week period consumed more calories and gained more weight — mostly in the form of fat — than animals eating yogurt flavored with glucose, a natural, high-calorie sweetener."

Dolce & Gabbana's yummy new entree.

Digital Age: Polaroid exits film business. "Polaroid chief operating officer Tom Beaudoin said the company is interested in licensing its technology to an outside firm that could manufacture film for faithful Polaroid customers. If that doesn't happen, Polaroid users would have to find an alternative photo technology, as the company plans to make only enough film to last into next year. Polaroid has already quietly halted production of instant cameras. "We stopped making commercial-type cameras about 18 to 24 months ago, and we stopped making consumer cameras about a year ago," said Beaudoin."

John Barrowman's parents put him in a trash bin to shut him up.

The Nation endorses Barack Obama: "This magazine has been critical of the senator from Illinois for his closeness to Wall Street; his unwillingness to lay out an ambitious progressive agenda on health care, housing and other domestic policy issues; and for post partisan rhetoric that seems to ignore the manifest failure of conservatism over these past seven years. But as Christopher Hayes argued in our cover story last week, Obama has also exhibited a more humane and wise approach to foreign policy, opposing the Iraq War while Hillary Clinton voted for it, and has been a reliable progressive ally over the course of his career. While his rhetoric about "unity" can be troubling, it also embodies a savvy strategy to redefine the center of American politics and build a coalition by reaching out to independent and Republican voters disgruntled and disgusted with what the Bush era has wrought."