Iran's 'cure' for homosexuality: financial assistance for a sex change operation. Cleric: "Islam has a cure for people suffering from this problem. If they want to change their gender, the path is open."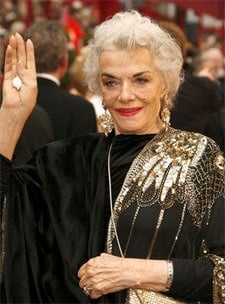 Jane Russell shows Hollywood how a real movie star works Oscar's red carpet.

Singer-songwriter Ne-Yo may not be gay, but he is fast.

Elton John talks to CBS about his AIDS Foundation and recent reports that cases among young gay men are on the rise: "We are facing an uphill battle again in countries that you thought you'd crossed, you'd done that, you've covered that territory. Because people think, 'Well, you know, even if I do get HIV, I'm going to be OK.' They don't realize the toxicity of the drugs they have to take. And I just think it's so reprehensible, with the information available to them. But they do it and so we have to help them."

Da-Tah: a Scissor Sisters mash-up album, free for download. (via arjan writes)

Gay couple told to cool the PDA at swank New York restaurant Cipriani? "A gay editor was dining with another young man recently when a Cipriani staffer asked the duo to turn and face the bar. The waiter conveyed to them that Cipriani is a 'family restaurant' and they might offend other diners. The restaurant contends their actions were less gay bashing and more preserving the sanctity of fine dining from what one witness called 'blatant crotch-grabbing.' 'There was an unfortunate incident a few weeks ago where two individuals were acting inappropriately in a sexual manner at the bar of an upscale restaurant. It should go without saying that this behavior is completely unacceptable for anyone, regardless of sexual orientation,' a spokesman for the restaurant asserts."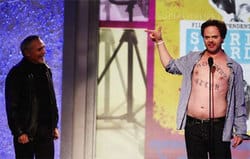 That other awards show, The Independent Spirit Awards, was a touch less formal than the Oscars.

The Miami Herald talks to Gay American Heroes project founder Scott Hall.

Archbishop of Canterbury Rowan Williams backing secret plans to create "parallel" church for American conservatives defecting over the church's gay policy: "According to insiders, Dr Williams has given his blessing to the plans to create an enclave for up to 20 conservative American bishops that would insulate them from their liberal colleagues. The scheme would allow them to remain technically within the Episcopal Church but under the care of like-minded archbishops from abroad. The Primate of the West Indies, Archbishop Drexel Gomez, a moderate conservative, has agreed to participate, and other primates could be recruited. However, the initiative is likely to infuriate liberal leaders of the Episcopal Church, who will see it as an attempt to undermine their authority and interfere in their affairs."

Pastor Ken Hutcherson's hate sermon: "If I was in a drugstore and some guy opened the door for me, I'd rip his arm off and beat him with the wet end."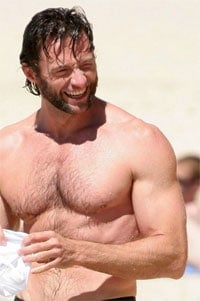 Wolverine shows off his washboard abs.

AfterElton talks to Michael K. Williams about Omar and the developments surrounding his character on last night's episode of The Wire [SPOILERS].

Novelist Scott Heim talks to the Boston Globe about his new book We Disappear and his escape from crystal meth addiction: "The drug didn't do anything for me anymore. It was just keeping me alive. It wasn't about pleasure; it was just obliterating the sadness. You don't write when you're on drugs because the last thing you want is to be alone. Crystal meth was erasing me, and the deeper I got I saw only three outcomes: death, prison, or recovery."

First look inside London Heathrow Airport's new Terminal 5.

Brit tabloid News of the World charges Diana butler Paul Burrell of leading 'secret gay life': "Paul IS a greedy liar, a devious snake. He's also ruthless and selfish. He's always made out that he's this happily-married family man when in reality he's gay and only interested in sex with men. He told me he hadn't slept with Maria for years. He's constantly on the lookout for gay pick-ups all over the world. And he shamelessly uses his back catalogue of Diana stories to hook his targets. He tells them all sorts about her to get them in the sack. His taste is for pretty, younger guys. He'll brag about his wealth and royal connections. There are plenty out there who fall for it."