Seattle station KIRO is reporting that two men were target on Seattle's Capitol Hill (Denny Way @ Olive Way) in a homophobic attack, leaving them with bruises, wounds, and broken bones: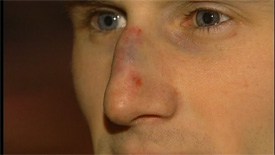 "The men said they believe they were targeted because they are gay. Thomas Colonna and Brad Crelia said they were about a block from home when a car nearly ran them over. They said they heard a car's tires screeching and then several men jumped out of the vehicle. Crelia said he couldn't run away because has a broken foot and is walking with a cane. 'He took the cane out of my hand and started hitting me with it on my face and head. I have a lump on the back of my head,' said Crelia."
Luckily, witnesses took down the car's license palte nubmer. Police are reportedly investigating, but have not yet labeled the attack a hate crime.
Gay Couple Attacked On Capitol Hill [kiro]