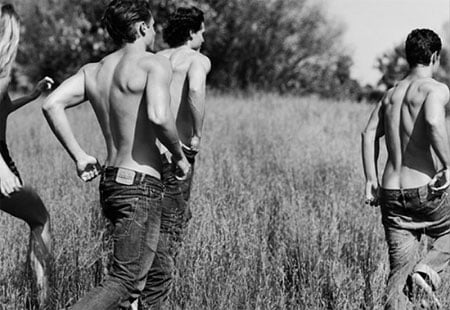 UPDATE: Virginia Beach police DROP obscenity charges…
Police seized two murals from an Abercrombie & Fitch store in Virginia Beach over the weekend, citing local obscenity laws. One is the image above. The other is of a woman with her hand over her breast.
Hampton Roads reports: "Adam Bernstein, a police spokesman, said the seizure and the issuance of the summons came only after store management had not heeded warnings to remove the images. The citation was issued under City Code Section 22.31, Bernstein said, which makes it a crime to display 'obscene materials in a business that is open to juveniles.'…The manager was not arrested but faces a fine of up to $2,000 and as much as a year in jail, if convicted. Bernstein said that in a meeting last week with store management, the officer – who is assigned to routine patrol of the mall – said he understood it was a corporate decision as to what would be displayed in the stores. But he explained that that didn't exempt the local store from complying with the city code. Bernstein said management was told specifically: 'We want those advertising signs taken down.'"
Meanwhile, some Catholic groups are up in arms about the latest Equinox Fitness Club ads that depict a group of nuns drawing a well-built nude male as if in a life drawing class.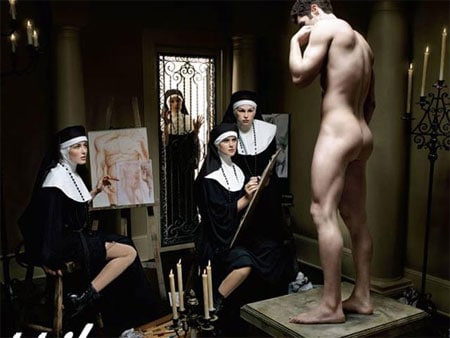 WCVB Boston reports: "C.J. Doyle of the Catholic Action League of Massachusetts said the ad shows contempt for the Catholic religion. 'It says a great deal about this perverse obsession in both the fashion industry and the advertising industry of exploiting and mocking and sexualizing Catholic religious imagery,' Doyle said. The fitness company responded with a written statement saying, 'Our ad campaigns are based on personal motivation and fantasy and throughout history the body has been considered a form of art.'"
Catholic League go-it-aloner Bill Donohue, of course, was aroused roused by the ad as well. He said: "…this patently stupid ad that Equinox is floating suggests that it must hype its edgy image in order to compete. That's too bad—apparently their targeted demographic group isn't lured by the prospect of more barbells and fruit bars. Hence, the need to rip off Catholic imagery in a sophomoric soft-porn ad. Of course, Equinox could have asked Fallon to replace the nuns with Islamic women covered with veils. But that was probably too edgy, even for these trendy types. Guess there are some envelopes that no one wants to push these days. How telling."
Donohue should just settle down. The photo could have been captioned: "Suck it Jesus, this man is my God now."