Jason Bartlett, a Connecticut Democrat who represents consitutents in Bethel, Redding and Danbury, came out of the closet today in an interview with the News-Times.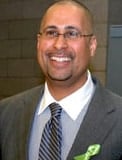 Said Bartlett: "For me the decision came down to why not now. To me this is about having a conversation with my larger family – the people of Greater Danbury who voted for me. I've always considered my life private. But at the same time we are also living in a digital age and I'm in the public eye. People are always interested in you and your family."
The paper adds: "The lawmaker added that while he's always tried to keep his personal life private, there have been rumors from time to time about his sexual orientation on web sites and innuendoes during prior political campaigns. Bartlett, a self-employed businessman who grew up in Redding, was first elected into office two years ago."
The Victory Fund notes that Bartlett's declaration now makes him the nation's first and only openly gay African American state legislator.
Bartlett announces publicly he's gay [news-times]