The $10.9 million Westboro Baptist Church was ordered to pay to the father of a soldier slain in Iraq was halved by a judge today: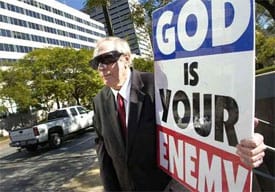 "In a 52-page decision, U.S. District Judge Richard D. Bennett upheld a jury's verdict awarding the father of Lance Cpl. Matthew Snyder multimillion-dollar damages for enduring emotional distress and having his privacy invaded by Westboro members waving anti-gay signs at the Marine's funeral in March 2006. 'There was also more than sufficient evidence to support the jury's verdict on defendants' liability,' Bennett wrote. 'There was more than sufficient evidence to support the jury's verdict that defendants' conduct before, during and after the funeral of Matthew Snyder was outrageous, designed to inflict emotional distress upon plaintiff and that the intrusion upon the seclusion of plaintiff and his family was highly offensive to a reasonable person.' But the judge more than halved the total $10.9 million award to $5 million. He upheld the jury's compensatory damage award of $2.9 million but reduced the total punitive damages from $8 million to $2.1 million. An appeal by Westboro to overturn the verdict is still pending."
Albert Snyder's case was the first brought against the church for their protests at military funerals. Westboro Baptist claims that U.S. military deaths are God's punishment for a nation that tolerates homosexuals.
Previously
Slain Soldier's Father Awarded $11 Million in Westboro Baptist Case [tr]
Westboro Baptist Church Thumbs Nose at $11 Million Judgment [tr]
Fred Phelps' Westboro Baptist to Picket Heath Ledger Funeral [tr]