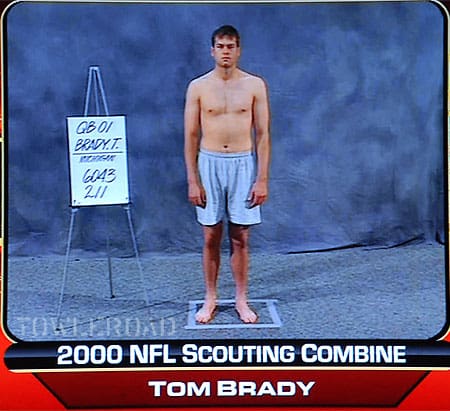 The NFL Scouting Combine will no longer be televising the shirtless weigh-ins, FOX Sports Reports: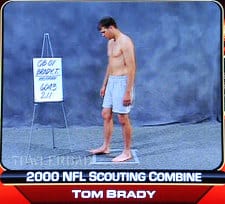 "'There was concern from current NFL players that the participants would be more comfortable if they were not paraded around without their shirts on,' combine director Jeff Foster said Saturday. 'It was an entirely appropriate suggestion. The weigh-ins should never have been televised.' Foster didn't know which players lodged the complaint, but it's believed to have come from NFL Player Association representatives who attend the Combine for union matters. Foster said any drills that would potentially involve a shirtless player also are off-limits to NFL Network, which has exclusive television rights to the Combine…There are modesty issues as well. A photo of Tom Brady wearing only gray gym shorts from the 2000 Combine was shown during the NFL Network telecast of December's regular-season finale between New England and the New York Giants. 'I am so happy they didn't videotape my Combine,' NFL Network announcer and former wide receiver Cris Collinsworth said as Combine footage of Brady aired."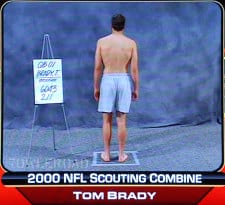 Last week, Outsports noted that Michael Silver of Yahoo Sports "describes the whole spectacle as kind of creepy, with apparent straight, older men ogling young male flesh like other guys do to the waitresses at Hooters." And sports blog Deadspin said "The NFL Combine has always creeped us out."
Basically it's a reaction to the icky homosexual subtext underneath it all. Go figure. The thought of men admiring other men for purely physical reasons is something that professional sports can't seem to handle, no matter what the context. Although, overseas, top players in professional sports have no problem courting the attention and even financially gaining from the physical objectification. In fact, it has spawned cottage industries, particularly with the French rugby team who seem to have no problem shedding every article of clothing for the Dieux du Stade calendars.
So, the plan is, the combine meat market will go on, it just won't be televised. Deadspin notes: "We would like to remind everyone that the NFL Draft Combine is yet another vivid reminder that the NFL does not measure success by heart, or guts, or grit. They measure it, simply, by meat."
NFL Network won't show shirtless players [fox sports]
Related
Tom Brady's First Beefcake Shot [tr]
Herndon Climb Under Review: Too Greasy…or too Gay? [tr]