Of course he does.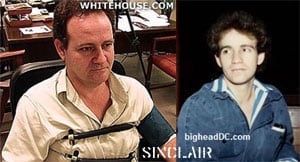 Larry Sinclair, the man whose YouTube claims of illegal drugs and oral sex with Obama were dashed against the polygraph rocks over the weekend, has given an interview with the site BigHeadDC (you may remember this site from the Trent Lott-escort scandal which never, in the end, panned out) in which he claims that the polygraph test results were fixed and that those behind the website WhiteHouse.com (Dan Parisi and Robert Braddock) were paid off by the Obama camp to achieve the desired results on the polygraph.
Said Sinclair: "I honestly believe that these results and the claims by Gelb are false, I believe he knowingly accepted money to provide WH.com with the desired results. This is based on the request upon arrival by Gelb's office for payment of an additional amount that I personally heard a receptionist tell Parisi that Gelb said there was an extra charge and Parisi acknowledged he was advised. I believe this based on all the whispering done while I was present and the amount of time the three spent in closed door discussions before, during and after the exam…I had put out everything about my past from the start, so I did not worry about what they tried to say about me. I will get vindication against all the knowingly false claims made when this is over because slander and libel is easy to prove when they keep repeating it after being told to retract it."
In related news, here's a PDF of the assessment of the first test, which dealt with the sex allegations.
Here's a PDF of the assessment of the second test, which dealt with the drug allegations.
EXCLUSIVE Interview With Sen. Obama's Accuser; Sinclair Discusses Polygraph, Plans [bigheaddc]
Previously
Deception Indicated in Larry Sinclair Polygraph Tests [tr]
Right Wing Readying Scandal Attack Against Democrats? [tr]
Gay Limo-Riding YouTube Loser Posts Slanderous Obama Smear [tr]