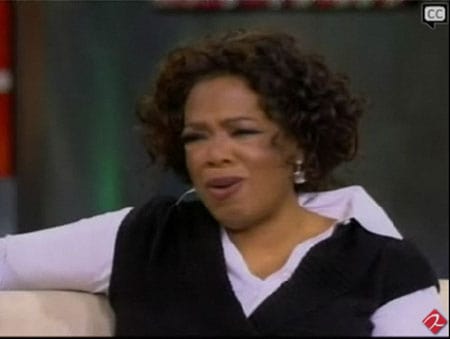 Earlier this week, Valerie Bertinelli appeared on Oprah to promote her new memoir, and the two got into some girl-on-girl talk.
OPRAH: You also wrote about passionately kissing another woman while you were married.
BERTINELLI: Did I write about that?
OPRAH: Yeah!
BERTINELLI: She was a good kisser. She really was. Have you ever kissed a woman?
OPRAH: No. No.
BERTINELLI: We don't want to start those rumors again.
OPRAH: I really haven't.
BERTINELLI: No. No, I believe you!
OPRAH: And if I had, I'd have let you know. I'd have told you years ago.
Leaving behind the speculation about Oprah's sexuality, you would think that a woman curious about so many things would have at least tried kissing a woman.
View the clip, AFTER THE JUMP…
(via celebitchy)
Previously
Oprah Winfrey Draws Huge Crowds for Obama in Iowa, SC, NH [tr]
Oprah and Gayle: "We're Not Gay!" [tr]