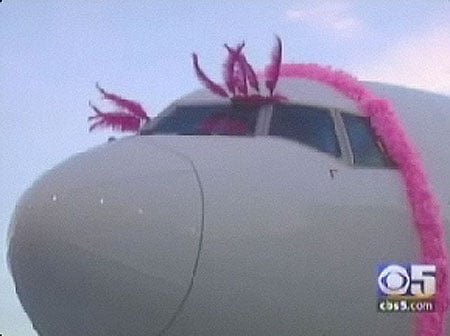 Right now, the Pink Flight, the gayest flight ever, is winging its way to Sydney with Kathy Griffin and a gaggle of gays aboard. When they promised gay, they weren't kidding.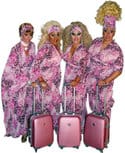 I really hope they removed that boa and those eyelashes off the plane before take-off — wouldn't be good news if those got sucked into an engine.
There's a brief news report AFTER THE JUMP from CBS 5 in San Francisco showing some of the pre-flight preparations that went on, including the arrival of the flight crew which, according to our sources, are named Buckwheat, Miss Ribena, Miss Tess Tickle, and Miss Venus Mantrapp.
If my calculations are correct, as I write this the plane has about another nine and a half hours of gay in the air.

Check out the clip AFTER THE JUMP (sorry about the quality)…
You may have missed…
Kathy Griffin to Serve as Hostess on Gayest Airline Flight Ever [tr]