In the New York Times magazine on Sunday, Deborah Solomon interviewed Texas Governor Rick Perry, whose crusade in defense of the Boy Scouts of America is being supplemented by royalties from his new book On My Honor: Why the American Values of the Boy Scouts Are Worth Fighting For. The Boy Scouts, of course have been under fire for their discriminatory policies against gays. Most recently, they were evicted from a Philadelphia building they had leased for nearly 80 years because of the city's anti-discrimination ordinance.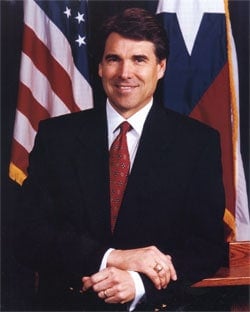 Perry says homosexuality is clearly just about sex, and there's no place for sex in the Boy Scouts.
SOLOMON: Let's talk about your new book, 'On My Honor,' which draws on your experience as an Eagle Scout and champions the values of the Boy Scouts of America, to whom you are donating your royalties.
PERRY: Yes, to their legal-defense fund.
SOLOMON: Which has been fighting the A.C.L.U., to keep gays out of the scouts. Why do you see that as a worthy cause?
PERRY: I am pretty clear about this one. Scouting ought to be about building character, not about sex. Period. Precious few parents enroll their boys in the Scouts to get a crash course in sexual orientation.
SOLOMON: Why do you think a homosexual would be more likely to bring the subject of sex into a conversation than a heterosexual?
PERRY: Well, the ban in scouting applies to scout leaders. When you have a clearly open homosexual scout leader, the scouts are going to talk about it. And they're not there to learn about that. They're there to learn about what it means to be loyal and trustworthy and thrifty.
SOLOMON: But don't you think that homosexuals might also be interested in being loyal and thrifty?
PERRY: The argument that gets made is that homosexuality is about sex. Do you agree?
SOLOMON: No.
PERRY: Well, then why don't they call it something else?
Perry recently told the AP: "Most Americans have a live-and-let-live view about homosexuality. Scouting's leaders have the same tolerant view, but they do not believe that someone whose personal agenda is to make an open issue of his sexual orientation should be a Scout leader. Scouting is not about sex, but about building character … The Boy Scouts is not the proper intersection for a debate over sexual preference."
Troop Leader [nyt]
Texas Gov. Defends Boy Scouts in Book [ap]
You may have missed…
Philadelphia Boy Scouts Evicted Over Anti-Gay Bigotry [tr]
"It's not Politics, It's Government" [tr]
Texas Governor Perry Tells Gay Vets to Go Elsewhere [tr]