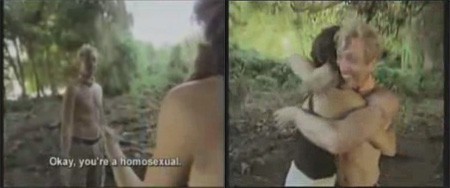 So, last night was the premiere of yet another season of Survivor, this time in Micronesia. They've brought back a selection of favorite contestants from the past (including hotties James and Ozzy) who are set up to compete against a group of Survivor fans. One of those fans is a woman I'm calling Krazy Kathy.
In the first ten minutes of the show, she meets both her first gay person and her first set of breast implants.
Kathy: "So, like, okay, you're a homosexual. I don't even know the right word to use. Is gay okay? It doesn't mean, you wanna be a girl? (Aside) Well, I knew Chet was a homosexual — you know, you can just tell he is. I don't have a problem with it, but I've never been friends with a homosexual. I think I worked with somebody in the 1980's, bartending, that was gay, but that's been about it. (To Chet) You can be my first gay man friend. Because I've never had a gay man friend."
Here's the clip — sorry for the poor quality.
Previously
Ozzy from Survivor: Cook Islands has a porn (straight porn, that is…) past. [tr]
Survivor: China Shows Off its Skin [tr]