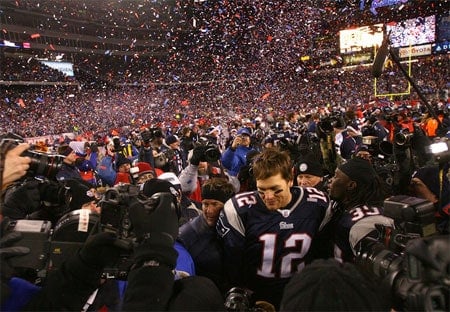 Tom Brady has a stylist on call named Pini Swissa who plans to have at him before the Super Bowl:
"Swissa, who operates the creatively titled Salon Pini Swissa on Newbury St., is in Arizona this week to cheer on the Patriots as they tangle with the New York Giants in Super Bowl XLII. He's also brought his barber shears and said he plans to give Brady a close crop Saturday evening before the big game. In fact, Swissa says he's on call in the Grand Canyon State. He's already trimmed Brady's locks once this week and said teammates will phone him with a time and location for another Brady haircut on Saturday. 'I did Tom Brady (Tuesday), and right before the Super Bowl, it's a surprise for everybody. Saturday night, I'm gonna cut it off. Saturday night, we're gonna cut it really, really off. We've been doing it the last couple Super Bowls, and Tom Brady is the last person to be superstitious. Every Super Bowl, I cut his hair off. I hope the helmet's gonna fit after I cut his hair off.'"
Pini should give him a 'boyzilian' while he's at it.
By the way, we have a little Super Bowl poll going on over in the right hand column.
(via deadspin)
Recently
Tom Brady Gets Fresh [tr]
Tom Brady to Take You to Never Neverland? [tr]
Patriots QB Tom Brady Spotted Wearing Brace in New York [tr]
The Tom Brady Mancrush Song [tr]
Tom Brady's First Beefcake Shot [tr]