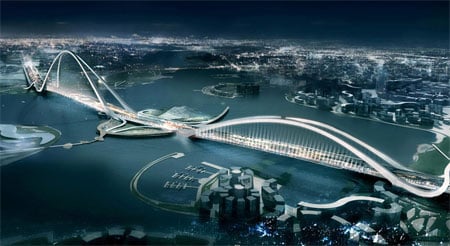 In this week's tech news, Jon Barrett looks at Dubai's latest architectural extravaganza, Isabella Rossellini's weird foray into fly fornication, Spore, tattoo inoculation, and how to successfully leave Facebook forever.

Dubai has the world's tallest building, artificial islands arranged like a map of the world, and the world's only 7-star hotel, and now it's set to be home of the largest and tallest arch bridge ever. Envisioned by New York-based architecture firm Fxfowle, the $817-million bridge will be one mile long and 670 feet tall. Construction starts next month and will last for four years.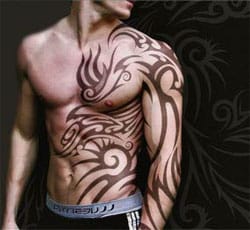 Ink fans rejoice: Scientists in Germany say that tattoos could be the ideal way to deliver therapeutic vaccines into the human body. So far, in studies with mice, tattooing a vaccine produced 16 times more antibodies than a simple injection into the skin, according to the BBC. Need to know what not to do when you get your next vaccine? Wired.com's Sonja Zjawinski found this blog, Horrible Tattoos, which is chock full of world's worst skin art.

It's only a rumor, but one worth repeating: 9to5Mac reports that Apple is likely to drop the price of the iPod Touch and iPhone by $100 within the next two months. But didn't it just hike the price by $100?
One thing's for certain, though. Those of us with iPhones are going to town with web searching. Google reports that it has seen 50 times more searches on iPhones than any other mobile handset.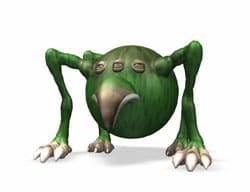 Electronic Arts announced this week that the long-awaited and long-delayed game Spore will finally go on sale September 7. Along with the announcement, EA released the broadest selection yet of images from the game, which was developed by legendary designer Will Wright, who also created The Sims. The game, which allows players to develop from single-cell organisms to sophisticated creatures and civilized tribes, will be available in Mac, PC, and Nintendo DS versions. Catch Spore in action here.

Andy pointed out this story from The New York Times earlier in the week—how it's close to impossible to quit Facebook. Now Valleywag has posted instructions on how to ditch the social network site without calling your lawyer. Meanwhile, Facebook has responded too, updating its help page with the question "How do I delete my account?"

And in another follow-up to one of Andy's posts earlier this week: You don't need to throw away your Polaroid camera now that the company is quitting the film format that made it famous. Geek Technique shows you how to turn it into a digital shooter instead.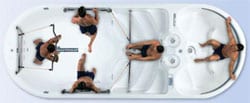 Here's a little something for those of you who don't mind burning cash and calories at the same time: The Aquafit 19 Dual Temp is a $40,000 gym/spa that allows users to have a full underwater cardio workout by using the included rower, tricep pull-down, and simulated jogger or swimming facilities. As Gizmodo reports: "The exercise area maintains the water temperature at levels that are ideal for the body's thermoregulation during an intensive workout, while the spa area heats up to get things steamy and soothing."

Starbucks announced that it will be getting rid of its for-pay Wi-Fi service through T-Mobile in favor of an AT&T plan that will provide up to two hours of free Internet service for customers.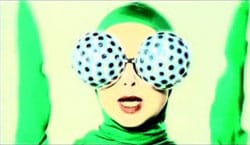 Twenty-two years after Isabella Rossellini pushed the filmic envelope in David Lynch's Blue Velvet, she's doing it again with a series of one-minute shorts meant to be viewed on your mobile phone. The series, called Green Porno, is a cartoon-like look at how insects copulate. In each of the films, Rossellini plays one of the copulating insects. Check the Sundance Channel for updates on when the shorts are ready to hit a small-small screen near you.

This is a refreshing concept phone from Nokia—especially refreshing when you consider that Americans recycle only 1 percent of millions of cell phones they discard every year. The "Remade" is a clamshell made of recycled aluminum cans, plastic drink bottles and rubber parts from old car tires. See a hands-on video of the concept phone here.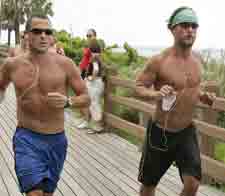 Bad news for Apple and Nike (not to mention Lance and Matthew): A popular Idaho marathon, the Race to Robie Creek, has banned competitors from wearing iPods and other MP3 players. Organizers cite safety concerns and a new law from USA Track & Field that outlaws "video or audio cassette recorders or players, TVs, CD or DVD players, radio transmitters or receivers, mobile phones, computers, or any similar devices."

Still concerned or confused by the warrantless domestic spying program that telecoms are partnering with the government to open the door to wiretapping American citizens? Mark Fiore's Snuggly Bear explains it in the cuddliest way possible.