A Spencerport, New York man is recovering after a brutal hate attack in a Rochester-area bar on March 7: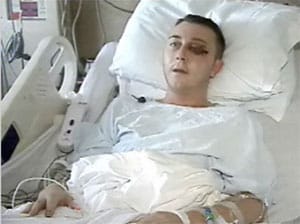 "According to Ogden police, Lance Neve, 26, was with his partner, Osbert Maldonado, 28, of Rochester, and another friend at Snuggery's Bar in Spencerport the night of March 7. They allegedly were subjected to derogatory comments throughout the night from Jesse D. Parsons, 24, of Spencerport. About 1 a.m. on March 8, Parsons apparently asked to shake Neve's hand because he had never shaken a gay man's hand, said Ogden police Investigator Scott Okolowicz. Neve refused, and Parsons then allegedly grabbed Neve and beat him up. When police arrived, Neve was unconscious. He was transported to Strong Memorial Hospital, where he was treated for a fractured skull, nose, left eye socket and upper jaw bone and blood on the brain, Okolowicz said."
Here's a news report of Neve talking about the attack.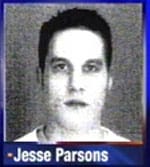 Neve's attacker turned himself in to police on Sunday: "Jesse D. Parsons, 24, faces a designated hate crime second-degree assault charge. He was arraigned Sunday and remanded to the Monroe County Jail on $30,000 bond and $15,000 cash bail. If Parsons is convicted of a hate crime, he would face a more severe sentence."
Said Neve: "I'm actually kind of thankful that he turned himself in too. It's a relief on my part. Mentally, I've just been on a roller coaster. For me it was kind of scary just even walking through town wondering if he could be there. There ain't enough jail time in the world that will ever heal what he did to me."
Bar assault called hate crime [deomcrat & chronicle]
Spencerport man faces possible hate charge in alleged beating [democrat & chronicle]
Hate crime victim talks about the attack [whec]
Hate crime victim reacts to arrest [whec]