A gay basher who brutally assaulted a man at HQ nightclub in the city of Adelaide has been sent to jail for eight months: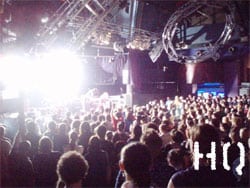 "Mohamed Abdula Abdulrahman was celebrating his 20th birthday at HQ nightclub when he attacked the man in December, 2006. Abdulrahman claimed to have lost control when the other man made sexual advances towards him about 5am. He knocked the man out with a punch to the head, then stomped on his head six to eight times. A number of people restrained Abdulrahman, but he broke free and stomped the prone man's head again. He also threatened one of the victim's friends who was trying to help the badly injured man. The attack was captured on the nightclub's security cameras and police arrested Abdulrahman soon after. District Court Judge Wayne Chivell said the victim was rushed to Royal Adelaide Hospital, where he remained unconscious on a ventilator for several days."
The judge gave Abdulrahman a lower-than-usual eight month non-parole sentence because of his youth and previous clean record.
Homophobic thug jailed for appalling assault [news.com]