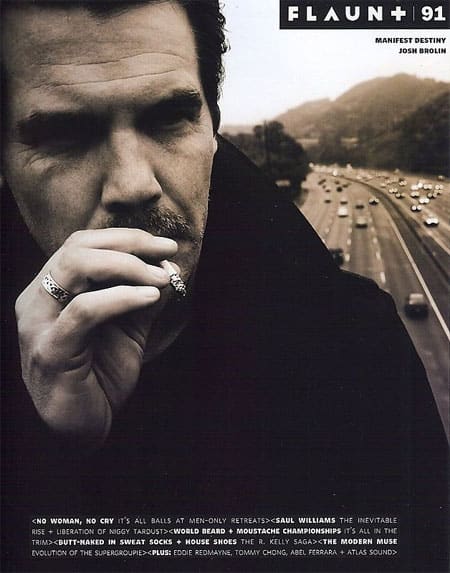 Josh Brolin appears in the new issue of Flaunt. More images at Boy Culture. He also gives an interview to the San Luis Obispo New Times in which he discusses taking on the characters of Dan White (in Milk) and George W. Bush for the upcoming Oliver Stone flick.
"Dan White, there's so much footage of him and there's so much video and audio in his confessions and all that, that it's definitely … nerve-wracking because you feel like you have to do the family justice in some way, and the person justice, but you don't want to do a carbon copy. It's the same thing with Bush. I'm getting ready to play Bush, George W. We're talking just about how close we want to get to him, and we want to stay in the spirit of it instead of trying to do a carbon copy because there's been so many comedies based on George Bush. So yeah, it gets a little more nerve-wracking. But I think once you get those iconic portions of the character, then you can go and kind of do your own thing and get away with it and still feel free instead of stifled."
Brolin also reveals how his participation in Milk came about:
"Sean [Penn] was the one that went to Gus [Van Sant] for Milk and said 'What about Josh,' 'cause me and Sean and Woody Harrelson and Catherine Keener had a great night when we were in Toronto and me and Javier Bardem, we all went out one night and had one of the funnest nights I've ever had in my life. It was hilarious, and we were all completely insane. I've known Sean off and on, but really through that night Sean went to Gus and said 'What about Josh for playing Dan White' and then when they came to me with it, I read it and thought it was amazing but I just thought it'd be fun. It'd be fun to play with Sean. Literally. Like a kid. I want to go play with Sean. Anyway, I know it starts to sound a little insane, but it's true."
He'd be so much hotter without that cigarette.
You may have missed…
Javier Bardem Trades Oscar Statue for Josh Brolin [tr]
Josh Brolin on Tackling the Role of Milk Assassin Dan White [tr]
Oliver Stone Elects Bush as Next Project [tr]
Diane Lane: Gay Men Lust for My Husband Josh Brolin [tr]