State Department acknowledges security breaches on Obama, Clinton, and McCain passport information: "[Secretary of State Condoleezza] Rice expressed concern over the privacy violations as well as the fact that they weren't reported right away. Rice said the incident "should have been made known to senior management. It was not to my knowledge and we also want to take every step we can to make sure this kind of thing doesn't happen again."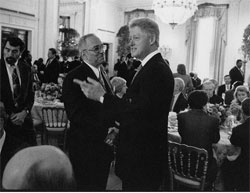 The Clintons and Rev. Jeremiah Wright: "The recent coverage of Rev. Jeremiah Wright has often cast him as a marginal, almost fringe figure, but Trinity Church is a major Chicago institution, and Wright has long been a prominent pastor on the American scene. And an anonymous blog set up to defend his church offers some compelling photographic evidence of this: A photograph of Wright and President Clinton, which it says was taken on Sept. 11, 1998 — the date of a White House gathering for religious leaders."

Jake Gyllenhaal had some kind of accident.

London protest: a protest will be held opposite Downing Street this Saturday, March 22 from 2-3 pm in support of gay Iranian teen Mehdi Kazemi and to demand Britain recognize the right of refugees to claim asylum on the grounds of sexual orientation.

New Mexico Governor Bill Richardson endorses Barack Obama: "I believe he is the kind of once-in-a-lifetime leader that can bring our nation together and restore America's moral leadership in the world. As a presidential candidate, I know full well Senator Obama's unique moral ability to inspire the American people to confront our urgent challenges at home and abroad in a spirit of bipartisanship and reconciliation."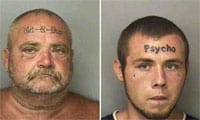 Dept. of regrettable tattoos: Like father, like son.

Donald Hitchcock vs the DNC: Howard Dean's gay headache.

Jim McGreevey wins a round in divorce court: "Former Gov. Jim McGreevey didn't plan to torment his wife while they were married, a judge in their divorce case ruled Thursday, while allowing her to continue with a claim of marriage fraud. The judge dismissed Dina Matos McGreevey's claim of emotional distress against her estranged gay husband. 'Mr. McGreevey was not out to destroy her emotionally,' Superior Court Judge Karen Cassidy said."

Match drag queens with their baby pictures.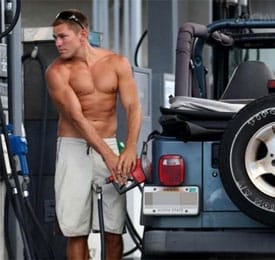 Former Bachelor Andy Baldwin gets juiced.

Stealth form of HIV may hold key to vaccine: "HIV is so dangerous because it is adept at avoiding detection by the immune system, says Carolyn Williamson at the University of Cape Town in South Africa. Some patients, however, have genetic mutations in the machinery of their immune system that are able to track and respond to HIV infection. In these people, the virus sacrifices its ability to grow in order to resist the immune attack. 'HIV strives to survive,' says Williamson, 'It will even compromise its fitness to evade detection – and that might impair its ability to replicate.' Now, Williamson's research team has shown that in its compromised form, HIV is less able to take a grip if it is transmitted to a new host – even if that person doesn't have the beneficial mutations in their immune system."

Butte: Mainstream media ignores victimization of gays. "If the media paid more attention to King's murder and the homophobia behavior that permeates our public schools, perhaps there'd be a public outcry here in the Sunshine State against the Legislature's removal from the proposed Safe School bill language that addresses harassment of GLBT students."

The Office is back – here's the new promo!