Suranne Jones, a British actress who starred in the soap Coronation Street and once starred in a play with John Barrowman has offered to carry his child, said the Torchwood star: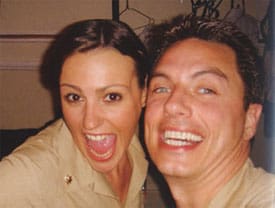 "She has said if I wanted a baby she'll have one for me. She wants to be a mum at some point and said if she didn't have a partner, she'd do it with us instead. She also said even if Scott and I wanted to have one, she'd do it. I'd love to have kids – I'm a big kid at heart. We just hit it off [after appearing together in London's West End in the play A Few Good Men] and now Suranne is a friend for life. It's a big deal to have someone offer to have a baby for you and very humbling."
But really, who wouldn't want to have John Barrowman's baby?
Previously
John Barrowman: Some People Are Gay, Get Over It [tr]
Valentino Wanted to be John Barrowman's Sugar Daddy [tr]
John Barrowman Tells His Coming Out Story [tr]