Gay Kansas high school student Jimmy Iniguez faces possible expulsion after being identified as an accomplice in an incident which resulted in a straight friend's expulsion. That incident originated after Iniguez, who describes the other student as his "best friend," told his straight friend that because of their association people were saying that he was gay.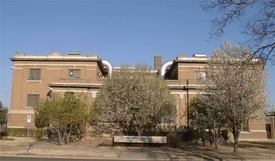 "According to Iniguez, the incident began when a female friend told him she had heard a rumor that a mutual male friend of theirs was gay. 'I told her that rumor was false,' Iniguez said. 'I said I would know, because I was his best friend.' But, 'it's like you can't be straight and have a gay friend,' he added. When the male student saw Iniguez in the bathroom later that day, he asked Iniguez what was going on. 'So I told him, 'Some people are saying you're gay, but don't worry. I told them it wasn't true," Iniguez said. 'But he still got kind of upset.' The student, who is 18, allegedly returned to class and threatened students and a teacher, Iniguez said. He was suspended and later expelled. School officials then suspended Iniguez, saying he was partly to blame because he harassed the teenager in the bathroom. 'It appears to me, if there's any harassment here, it's on the part of the administration at the school,' said John McKean, a lawyer representing Iniguez and his mother. The teenager, a longtime friend of Iniguez's, has agreed to testify on Iniguez's behalf at today's hearing, McKean said."
Iniguez has been suspended, unfairly he says, because he is gay: "I am openly gay, and some people don't like that. But I never bothered anybody. All I want is to go back to school."
An expulsion hearing was set for this morning.
Kansas Equality Coalition apparently held a press conference outside the school today.
Teen denies harassment claim [wichita eagle]