After the failure of a major Merck & Co AIDS vaccine trial last year in which it appeared that recipients of the inoculation became somehow more susceptible to HIV rather than protected from it, government officials and scientists began "a major overhaul" of its efforts, Reuters reports: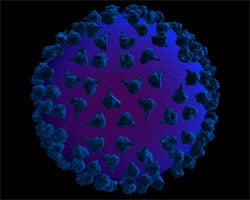 "Government officials at a summit with AIDS scientists pledged to prioritize spending on lab work and animal tests rather than expensive, and thus far disappointing, large-scale vaccine trials on humans. 'We need to turn the knob in the direction of discovery. That is unambiguous,' said Dr. Anthony Fauci, director of the National Institute of Allergy and Infectious Diseases, who convened the meeting outside of Washington. 'We really do need new and novel ideas.'…Fauci suggested the overall AIDS research budget at his institute, now about $1.5 billion, could tilt more in favor of basic laboratory work rather than vaccine product development, which currently accounts for about a third of spending. 'We really need to seriously look at torquing that balance more to answering some of the fundamental questions that we don't have answers to,' he said. The new funding initiative is expected to begin within months and will focus on both broader, more imaginative research and on encouraging younger scientists to begin cracking HIV's mysteries, Fauci said, adding that all projects were being examined. 'Everything is on the table,' he said."
In February, Fauci reported in the journal Nature Immunology that he and his team discovered a new receptor for the virus which helps explain why it attacks the immune system in the gut. And earlier this month, a Canadian team led by molecular virologist Stephen Barr announced they had discovered a gene which prevents the HIV virus from assembling in a cell culture, shich may provide clues to a more natural means of blocking the virus.
US government sees overhaul of AIDS vaccine effort [reuters]
Previously
"Deep Disappointment" from Experts as Merck AIDS Vaccine Fails [tr]