The New York Times looks at how Tom Judson, who many of you may know as porn actor Gus Mattox, leapt from his adult film retirement in 2005 to a career in house-flipping in upstate New York, renovating homes with a talent he learned using his own handiwork skills and some books: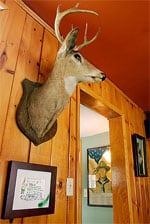 "Mr. Judson's new business, Acme Housing (slogan: 'Yesterday's Homes … Today!'), came about accidentally. He bought a 700-square-foot cottage in Cairo, N.Y., in 2005 for $50,000, renovated it and moved in before realizing that he could not really keep two houses in the area. So he sold the Cairo cottage for $110,000 and headed back to the woods. 'Seeing the profit I made from the sale was my Aha! moment,' he said, and he realized 'that this hare-brained scheme might just be something to make money from.' The Cairo project was followed by a bungalow in Coxsackie, N.Y., which he bought in late 2006 for $72,000, quickly gave a quaint Arts-and-Crafts-inspired makeover and sold the next spring for $161,000. Much of the pleasure he takes in the work, he said, has to do with 'taking a house that most people consider not worth saving and giving it a new life.' He went on: 'I've passed on quite a few houses because, even though there was money to be made, I didn't think I'd enjoy working on them. You know, if being responsible were a priority of mine, my résumé of the past 30 years would be totally different.'"
Sure beats traveling the country doing local theater productions of "Making Porn" which seems to be the route of other gay adult film stars.
Acme Housing [official site]
Now Rated R (for Resale) [nyt]
(via fleshbot site NSFW)