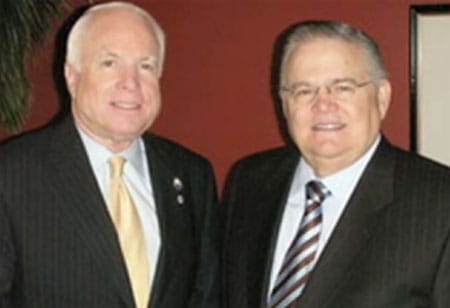 "All I can tell you is I'm very proud to have pastor Hagee's support," said John McCain, about his recent endorsement by Pastor John Hagee, whose statements about Catholics and the U.S. support of a two-state Israeli/Palestinian solution, not to mention gays, have been widely condemned. I mentioned this briefly last week, but Hagee's statements are now detailed in a video clip put together by the folks at Talking Points Memo.
Here's what Hagee said about Hurricane Katrina in an appearance in 2006 on NPR's Fresh Air: "All hurricanes are acts of God, because God controls the heavens. I believe that New Orleans had a level of sin that was offensive to God, and they are — were recipients of the judgment of God for that. The newspaper carried the story in our local area that was not carried nationally that there was to be a homosexual parade there on the Monday that the Katrina came. And the promise of that parade was that it was going to reach a level of sexuality never demonstrated before in any of the other Gay Pride parades. So I believe that the judgment of God is a very real thing. I know that there are people who demur from that, but I believe that the Bible teaches that when you violate the law of God, that God brings punishment sometimes before the day of judgment. And I believe that the Hurricane Katrina was, in fact, the judgment of God against the city of New Orleans."
See the clip AFTER THE JUMP…
(via slog)
It's time for John McCain to denounce this man rather than embrace him.
Previously
McCain Gay-Baiting in new Romney-bashing robo-call [tr]
John McCain: Never Heard the Acronym 'LGBT' Before [tr]
High School Student Slams McCain After Gay Rights Question [tr]
Report: McCain Feels "Gay Sweaters" Helped Undo Campaign [tr]
McCain Restates Support of "Don't Ask, Don't Tell" [tr]
John McCain Not Sure if Condoms Stop Spread of HIV [tr]
John McCain: Gays are Welcome to Marry, Just Not Legally [tr]