The Miami Herald paints a heartbreaking portrait of a mother, Denise King, and her son, Simmie Lewis Williams Jr., who was found gunned down off Fort Lauderdale's Sistrunk Boulevard on February 22.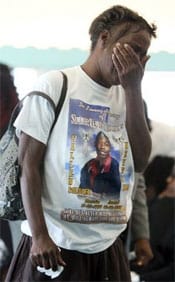 "Of course a mother always knows. And he was very sure of his sexuality," King told the Herald.`"I just told him that he was my son, that I would never turn my back on him and that I loved him. Because I did. I do.'"
Pictured here, Patricia Young, a close friend.
The Herald: "Williams Jr., 17, was buried over the weekend wearing a handsome beige suit and white gloves. His mother, Denise King, had searched to find the right outfit. It would be the first and only time she would see a suit on her oldest boy. Simmie, who was openly gay, was found fatally shot early Feb. 22 in a scrappy lot off Sistrunk Boulevard in Fort Lauderdale. He was found dressed as a woman. He was buried dressed as a man. 'Simmie's friends asked me if I was going to dress him as a woman for the funeral. I said no. I gave birth to a boy, and my baby would be buried as a boy," says King, 38, her thin voice suddenly firm. 'I don't know . . . what he did or didn't do across town. What I know is that he was gay and didn't deserve to be gunned down because of who he was.'"
Victim dressed as a woman, but `buried as a boy' [miami herald]
Previously
Hundreds Attend South Florida Vigil for Slain Gay Teen [tr]
Is Fort Lauderdale Mayor Naugle Responsible for Anti-Gay Hate? [tr]
Gay Florida Teen Gunned Down in Fort Lauderdale [tr]