Jimmy Iniguez, the gay Kansas high school student who faced possible explusion after officials said he "harassed" another student in a school bathroom, will be returning to school. The incident originated after Iniguez, who describes the other student as his "best friend," told his straight friend that because of their association people were saying that he was gay.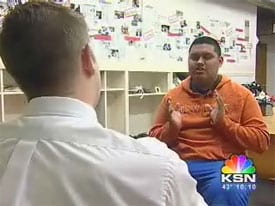 Iniguez faced a hearing last week and was allowed to return yesterday: "He received a letter from the district today saying a hearing officer found him not guilty of the charge. He plans to return to school at the Towne East Educational Resource Center on Wednesday. 'I'm very happy it worked out and I can go back to school,' Iniguez said. 'If anybody goes through what I went through, I encourage them to fight it and not give up.'"
The Towne East Educational Resource Center is a different school, however. Said Iniguez: "I really hope this next school is more accepting and tolerant towards differences."
Iniguez claims he was unfairly accused because he is gay.
Previously
Gay Student Faces Possible Expulsion for 'Harassing' Straight Friend [tr]